Sunshine Coast Car Hire & Sunshine Coast Airport Car Rentals
You can get the BEST Car Rental or Minibus Hire Deals here
See why and how below

CHEAP MAROOCHYDORE CAR HIRE, CALOUNDRA HIRE CARS, NOOSA CAR RENTALS, RENT A CAR FOR MOOLOOLABA OR NAMBOUR
Merry Christmas and a very Happy New Year to our many rent a car customers throughout Australia and from overseas. Check out the amazing prices available to you when you Hire A Car with us. At Aussie Bargain Car Rentals we continually focus on providing you with great savings and better service. Find us in Cessna Street at the Maroochydore (Sunshine Coast)Airport. Why pay more elsewhere? *
* Well the sunny coast is really humming this holiday season. Most of our customers booked early and gained the benefits of really cheap car rental prices over Christmas and January while the last minute prices at most of our competitors have soared. With not enough rental cars available for the number of tourists here this holiday season, the few gaps we have available are filling fast. Please be patient. The phones are ringing off the hook most of the time and the girls and guys in the office are doing their best to find solutions for our customers wherever possible. If they do make you an offer of a car, we strongly suggest you do not delay booking it. Delay and you will most likely miss out. Remember we are a local company and our office is just two hundred metres from the Airport Terminal.

1. Our "Your car WILL be waiting for you" GUARANTEE
At Aussie Bargain Car Rentals we GUARANTEE we will NOT overbook our fleet and let you down. Unfortunately it seems that most major car rental companies in Australia . . .
2. Our "We will never leave you stranded" "MONEY BACK" GUARANTEE
We are so confident about our service and the reliability of our vehicles that - Should you have a mechanical breakdown in one of our cars, which was not caused by your actions or negligence and we do not fix the problem or replace the vehicle within 24hours . . . we will GIVE YOU YOUR MONEY BACK. . .
3. Our "Absolutely no hidden costs" GUARANTEE
We believe that when you book a rental car, anywhere, there should be NO NASTY SURPRISES when you arrive to pick it up!
SEE WHY WE ARE THE BEST CHOICE FOR REALLY AFFORDABLE HIRE CARS AND PEOPLEMOVERS:
| | |
| --- | --- |
| | Sunshine Coast Rental Cars - YES |
| | Maroocydore Airport Car Hire - YES |
| | Sunshine Coast Airport Car Rental - YES |
Who are we?
We are an independent, family owned and operated, Sunshine Coast based car rental company. Our family is pleased to welcome you, your family, friends and colleagues. We aim to meet and exceed your car hire expectations.
What we believe in.
| | |
| --- | --- |
| | Integrity and honesty in our business dealings with you |
| | Car rental should be a safe and enjoyable process |
| | Trust is a two way process that lasting relationships are built on |
| | Personal and friendly service starts that trust building process |
There is so much more to renting a car than just getting a cheap price. Most people also want the hire process to be staright forward and trouble free. They also want to rent a safe, reliable and well presented 'clean' vehicle. At Aussie Bargain our focus is firmly on meeting all the above expectations. We work hard to make your entire vehicle hire experience as easy and enjoyable as possible.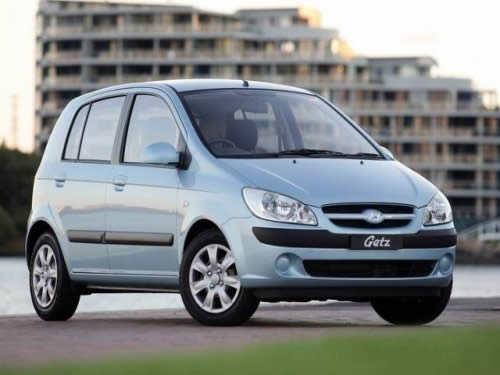 Providing Sunshine Coast Car Rental since 2005
With a strong focus on economical hire cars and quality peoplemovers, we are now the FIRST CHOICE for cost effective vehicle rental on the Sunshine Coast.
Enjoy Your Holiday with an Aussie Bargain Rental Car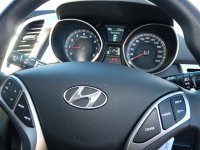 If you are on holiday or vacation, you will really love the Sunshine Coast. With some of the best beaches in the world, great shopping and a Hinterland full of fantastic walking trails, unbelievable views and so many different experiences; you will be loath to go home again. Let us share with you the local's secrets to a fantastic break on the beautiful Sunshine Coast.

Why not hire the New Generation Hyundai i30 Hatch and see the coast in style. It is a real pleasure to drive and be seen in.
Better Hire Vehicles, Better Prices, Better Service
With a motto of "Aiming for Excellence", our goal is to become the most trusted car hire firm on the Sunshine Coast. We'd love to have you delighted with our service and keen to use us again and again.

Never used us before? Take a few minutes to check out our 'Testimonials' page to see what our customers have to say; or check out the independent Google Places, True Local and WOMO reviews. These are all genuine reviews, willingly given to help you make your car rental decision with confidence.
Where can I use my rental car?
Most of our rental cars are for use in South East Queensland, that is the area between Hervey Bay in the north and Coolangatta (at the bottom of the Gold Coast) in the south. New and Near New cars may be approved for a greater area of use. Feel free to ask us. If we can't help with further away destinations, we can often recommend other companies who can.
We supply both new and used hire cars for Noosa and Tewantin, Sunshine and Sunrise Beaches, Perigian, Cooroy, Eumundi, Coolum, Marcoola, Mudjimba, Pacific Paradise, Maroochydore, Alexandra Headland, Mooloolaba, Nambour, Kawana Waters, Currimundi, Pelican Waters and Caloundra; as well as all arrivals into the Sunshine Coast Airport.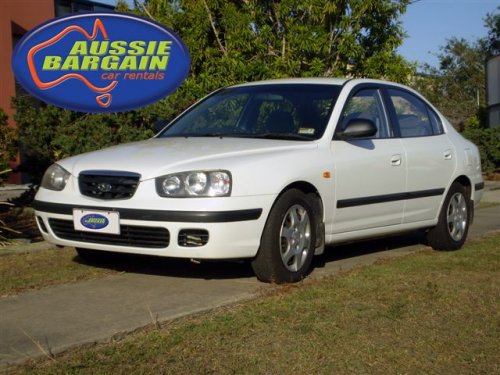 Am I getting the best price?
We certainly hope so. However, when you are hiring a car you need to consider not only the price, but also the quality and condition of the car. How good is the service provided before, during and after the hire and how good are the insurance excess options? At Aussie Bargain there are No Hidden extras.

At Aussie Bargain Car Rentals we focus daily on providing quality hire cars, an excellent range of excess options and genuine service at REAL BARGAIN PRICES. In fact our customers frequently tell us we have the "best value for money rentals on the Sunshine Coast".
Can I hire a six or eight seater Peoplemover or Minibus?
For those who are travelling with a larger family or group, we rent out new and used 8 Seater vans (peoplemovers or minibuses). Our peoplemovers have Power Steering, Reverse Parking Sensors, Air Conditioning and Window Tinting to keep you cool. Like all our other hire vehicles, they are kept very clean and well maintained. Although our vans have generous luggage space, it is worth discussing luggage capacity with our staff if you have luggage for eight people to carry.
Below is the ever popular Hyundai Imax 8 seater minibus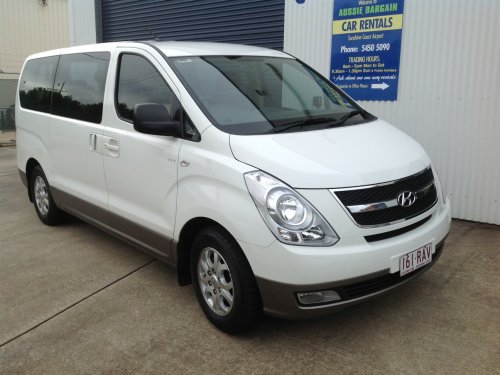 Website Security
You can rest assured that obtaining a quote and booking your car through the Aussie Bargain website is both secure and private. Our Booking System uses SSL secure transaction technology to ensure the privacy of your personal information.
Our Airport Location
For your convenience, our Office is located right beside the Sunshine Coast (Maroochydore) Airport, before you exit Airport Drive. Yes we really are just a one minute drive from the terminal. Experience our 'On Airport convenience' along with 'Off Airport' prices.
Your Airport Service
| | |
| --- | --- |
| | Quick pickups |
| | No delay dropoffs |
| | Assistance with luggage |
Other Sunshine Coast Pickup Locations
Other Sunshine Coast Pick Up and Drop Off locations attract a very reasonable fee and may be subject to minimum hire periods. Regular bus services from Noosa or Caloundra through to Maroochydore make pick up of your hire car a very cost effective option. We will happily pick you up from the Airport and local Bus stops. convenient options exist for Nambour Rail Station also; just ask our friendly staff.
Wide Range of Vehicles including:
| | |
| --- | --- |
| | Hyundai Getz Hatch - Manual 3 door |
| | Getz - 5 door Manual or Auto |
| | Accent - 3 or 5 door Hatches |
| | Suzuki Swift - 5 door Auto Hatches |
| | Kia Rio - 5 door Auto Hatches |
| | Hyundai Elantra - 4 door Auto sedans |
| | Nissan Tiida - 4 door Auto Sedans |
| | Camry or Sonata - 4 door Auto Sedans |
| | Hyundai Imax - 8 seater Auto Peoplemover |
| | Hyundai i30 - New Generation Hatch |
Cars to suit your specific needs
Whether you wish to hire a new, late model, or earlier model rental car, Aussie Bargain are pleased to provide you with well presented, well maintained, and reliable vehicles, backed up by 24 hour roadside assistance from RACQ.