Sunshine Coast Airport Car Hire, Motorhome and Campervan Rentals
Easily find the hire vehicle you need - New or Used

9 different makes and 22 models of Cars, SUVs and Campers to choose from with No Hidden Fees
Why hire a car from us?
Why would you want to rent a car or mini-bus, or hire a campervan or motorhome from us? Well if you are looking for a trustworthy rental car company; one that consistently provides a wide variety of quality new and used hire vehicles, plus personalised service at bargain prices, then you have come to the right place. Please check out our website to see all we have to offer.
We encourage you take a few moments to read our customers testimonials on this site, (also at the bottom of this page), and at a variety of review sites on the web. Our happy customers will tell you all you need to know. From large new SUVs to small cheap runabouts, luxury motor homes to basic camper vans; we have both the hire vehicle and service you are looking for.

Bill discusses his recent car rental
Yamaha Jetski Club fun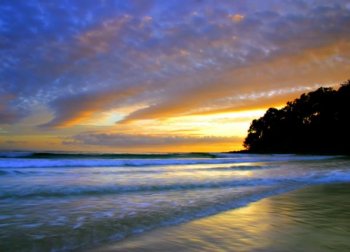 Happy New Year to all our existing customers and those planning to rent from us in 2016 We are pleased to provide a very warm welcome to our many rent a car customers throughout Australia and around the world. Check out the amazing prices and specials available to you when you Hire A Car, Ute, People-mover or Camper Van with us. At Aussie Bargain Car Rentals we continually focus on providing you with great savings and a better vehicle rental service. February is our super bargain month where we always do the best prices all year. This year will be no exception, however there are many fleet changes coming up along with the upcoming establishment of our new Brisbane Airport. We expect to be busier this year, so give us a call now to find the best available deal for car hire over the next few weeks. For special discounts on longer hires and excess reduction SPECIALS on longer rentals, grab an automated quote or give us a call today. You will find us in Cessna Street at the Maroochydore (Sunshine Coast) Airport. Why pay more for less elsewhere?*
1. We GUARANTEE that "Your hire car WILL be waiting for you"
Not many rental companies will guarantee that they won't overbook their rental fleet and consequently let you down. At Aussie Bargain we provide you with just that guarantee. Not everyone realises that that most major car rental companies in Australia deliberately choose to overbook . . . find out more
2. We GUARANTEE that "We will never leave you stranded"
We are so confident about our service and the reliability of our vehicles that - Should you have a mechanical breakdown in one of our rental cars, (which was not caused by your actions or negligence) and we do not fix the problem or replace the vehicle within 24hours . . . we will GIVE YOU YOUR MONEY BACK. . . find out more
3. We GUARANTEE "Absolutely no hidden costs"
No one likes NASTY SURPRISES when they arrive to pick up a hire car they have booked! At Aussie Bargain we guarantee NO hidden costs. Click here to find out more
What we believe in
Integrity and honesty from both parties helps make car hire simple and hassle free
Car rental should always be a safe, easy and enjoyable process
Trust is a two way process that lasting relationships are built on
Personal and friendly service starts that trust building process
Will I get the best price on my car hire?
Yes, at Aussie Bargain you will. Every day we compare our prices with our competitors to ensure we are giving you, our customer, maximum value without compromising on your safety and our service. We do this because, when you go to rent a car, there is so much more you should consider than just getting cheap car hire prices. Most people want to rent a reliable, safe and well presented 'clean' vehicle? Our goal is to provide all that and more; whilst still remaining very affordable.
Whether you are searching for family car rentals, a budget car hire for your business travel or an insurance replacement after a smash; at Aussie Bargain we work hard to ensure your entire vehicle hire process is always straight forward, transparent and trouble free.
Where can I use my rental car?
Our rental cars and Utes have an allocated area of use in South East Queensland. They are available for use between Hervey Bay in the north, Toowoomba in the west and Coolangatta (at the bottom of the Gold Coast) in the south.
Our new and near new cars may be approved to go further north or south, subject to certain conditions Please ask us if you wish to go further afield, Where we are unable to assist with more distant destinations, we can frequently recommend other companies who can.
Why are we the preferred Maroochydore Airport Car Hire company?
Aussie Bargain are frequently the cheapest on the Coast for a quality car hire
You also get choice in the age of the vehicle - new - late model - used, earlier model
Our long term car hire and medium term car rentals are at great rates and include periodic vehicle safety checks
Our rental car insurance excess options are some of the best value you will find
We are based at the Sunshine Coast Airport (Maroochydore Airport) - just a minutes drive from the terminal
We focus on REAL BARGAIN PRICES, with NO HIDDEN EXTRAS
You can even hire a motorhome or a campervan for your holidays
Rent A Campervan or Hire A Motorhome

right here on the Sunshine Coast
Aussie Bargain is pleased to promote a new camper van rental and motor home hire service here on the Sunshine Coast. No longer is it necessary to drive all the way to Brisbane to pick up and drop off a rental camper. For your convenience, they are now available right here from our depot at the Sunshine Coast Airport.
For more information on our campervan and motorhome rentals, check out thecamper related links down the right side of this page, and give us a ring to discus booking options.
Please Note: -
For INSTANT PRICES - choose 'Sunshine Coast Campervans/Motorhomes' in the 'Pick Up Location' on the 'quote and booking box' above. Under Vehicle Type - choose 'Campervan or Motorhome'.
Our 5 berth luxury motorhome
Where can I use your rental campervans and motorhomes?
Our new campervan and motorhome range is available for use from Cairns in North Queensland to Adelaide in South Australia. Currently our best deals are for use in the Sunshine Coast and adjoining regions. Ring us now on (07) 5450 5090 to discuss options.
Our 4 berth Premium Campervan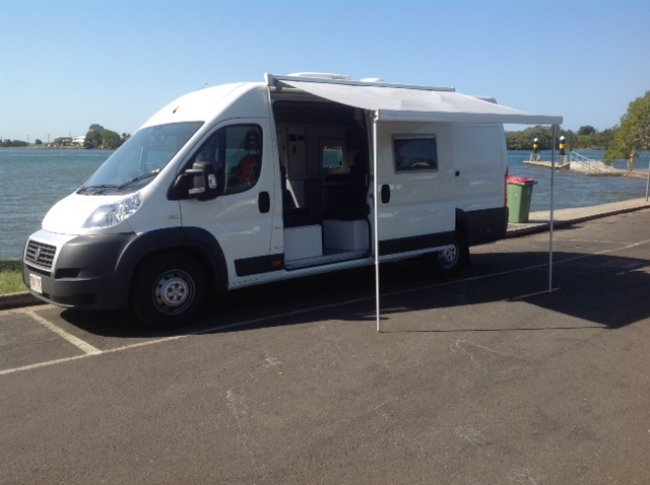 Great Sunshine Coast Beach and Hinterland Holidays
The Sunshine Coast is an internationally renowned holiday mecca. Home to around 300,000 permanent residents and a vacation playground for many more from around Australia and the world. International visitor nights are currently growing with an estimated total of 230,590 international visitors (year ending June 2014) staying some 1,686,722 nights.
Source:TRA(2014) via AECgroup.
Here you can relax on some of the best beaches in the world. Visit Caloundra's unique coastline with it's multiple individual beaches, each with it's own character and charms. Stretching on up the coastline through Kawana to the famous beach resort town of Mooloolaba, with its vibrant beachside cafe's and restaurants, through to the popular swimming and surfing beaches at Maroochydore. The family friendly Cotton Tree picnic area along the Maroochy rivermouth is always a firm favourite with locals and vistors alike.
Heading up the North Shore, there are miles of golden sandy beaches where you can walk and enjoy the great scenery for as long and far as you wish. If you walk far enough you will pass the seaside towns of Yaroomba, Coolum, Perigian and up as far as Sunshine Beach; another very popular, classy resort area on the fringes of Noosa. And Noosa of course has the unique benefit of beaches each side of the area, so pretty much whichever way the wind is blowing there is a sheltered beach for you and your family or friends to enjoy.
Other Sunshine Coast attractions
Of course there is so much more to the Sunshine Coast region than just fabulous beaches and great seaside resorts. Caloundra, Kawana, Maroochydore and Noosa all have vibrant and comprehensive shopping plazas where you can 'shop til you drop' or just enjoy a quiet coffee. Each town and area on 'the Coast' has its own unique charm and local tourist attractions. The Hinterland with its creative populations of Maleny, Montville Flaxton and Mapleton townships and an environment filled with lakes, waterfalls and walking trails, offers a pleasant contrast to the coastal fringe. There is just so much to do and enjoy, we find so many of our customers are loath to go home again.
How are you going to get to all these fabulous places? Well the most cost effective way is to hire a car from Aussie Bargain for the duration of your stay. Let our staff share their local knowledge of what you can do and enjoy on the fabulous Sunshine Coast.
The ever popular Hyundai Imax 8 seater Minibus.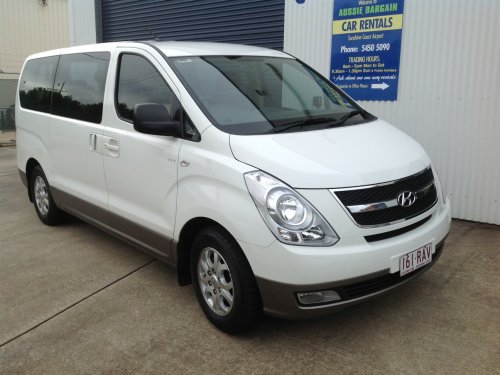 Website Security
Obtaining a quote or booking your hire vehicle through the Aussie Bargain website is secure, private and safe. Our Booking System, provided by Rental Car Manager (RCM), uses SSL secure transaction technology and other safeguards to ensure the privacy of your personal information.
Areas we service
Aussie Bargain supplies both new and used hire cars for Noosa Heads and Tewantin, Marcus, Sunshine and Sunrise Beaches, Perigian Springs and Perigain Beach, Cooroy, Eumundi, Coolum, Yaroomba, Marcoola, Mudjimba, Pacific Paradise, Maroochydore, Alexandra Headland, Mooloolaba, Nambour, Kawana Waters, Currimundi, Pelican Waters and Caloundra; as well as all arrivals into the Sunshine Coast Airport. We also supply rental camper vans and motor homes for hire, for festivals and holidays in South East Queensland and beyond.