About Aussie Bargain Car Rentals
Aussie Bargain Car Rentals - is an Independent, family owned and operated Sunshine Coast Car Hire business. We have been operating from our very convenient locations, right beside the Sunshine Coast (MCY) Airport, since September 2005.
Better Rental Vehicles, Better Prices, Better Service
With a motto of "Aiming for Excellence", we aim to become the 'most trusted' rental car business on the Sunshine Coast. Our goal is to have you delighted with our service, keen to use us again and happy to refer us to your friends.

Not been with us before? We suggest you take a few minutes to check out our 'Testimonials' page to see what our customers have to say; or check out the independent Google Places, True Local and WOMO reviews. These are all genuine reviews, willingly given to help you make your car rental decision with confidence.
FIND US BESIDE THE SUNSHINE COAST AIRPORT
Our Head Office is conveniently located right beside the Sunshine Coast (Maroochydore) Airport; at 8 Cessna Street, Marcoola (sometimes also known as Mudjimba). Find us on the Locations Page map.

To find this location, just enter the Airport entrance,(Runway Drive), turn left at the roundabout and first right into Cessna Street. We are half way along on the right - now at Number 8. As our office is less than a minute's drive from the terminal we provide a quick and efficient Airport Pick Up and Drop Off service. This system frequently allows you to be on your way faster than if you picked up a car from an Airport terminal desk and then an open airport car park. Plus our staff can check the vehicle out with you and are readily available should you have any questions.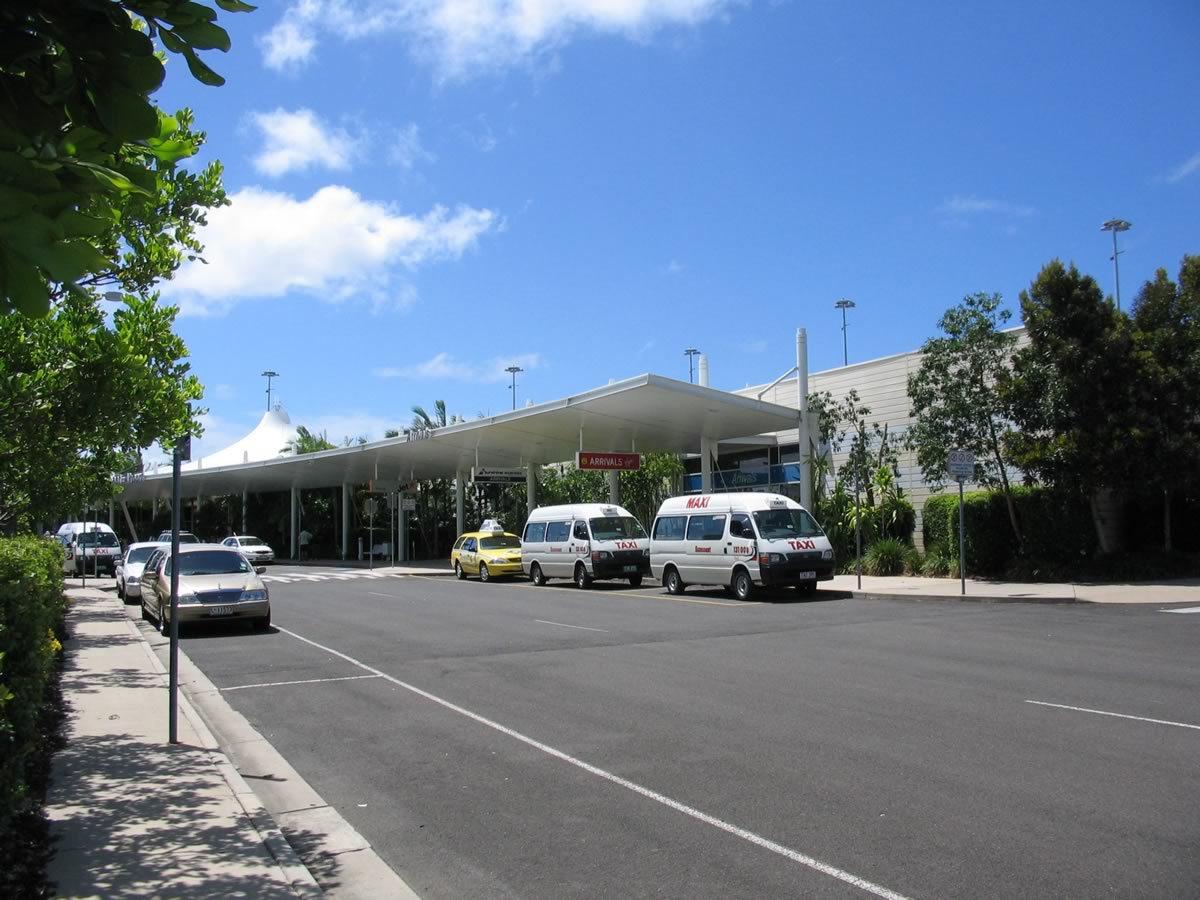 MEET OUR TEAM
Annette is the friendly and helpful voice on the phone and the smiling face in the office when you arrive. Ken looks after business admin and website and also manages the fleet. Selwn and Malachi are our experts in the car, motorhome and campervan preparation. As a team we work hard to ensure your Sunshine Coast rental car is well cleaned and ready for your holiday rental or business travel.
Its now over 17 years since we first opened our Sunshine Coast car hire business in September 2005. Since then there have been many changes including a move to our new premises right next door to where we previously operated from. During 2014 we started Sunshine Coast Campervan Hire and motor home rental Sunshine Coast services under the brand name Sunshine Campervan and RV Hire. We now have a range including two, four, five and six berth motor-homes, and smaller campers such as the ever popular Toyota hi-top campervans that sleep two or three persons.
Whether its a car, a camper, or a multi-seat peoplemover van, we welcome your enquiry via phone, email or our easy Quoting and Booking System.
WHAT TYPE OF VEHICLES DO WE HIRE?
At Aussie Bargain Car Rentals you will find there are plenty of options - from new and near new cars, through to late model well maintained vehicles, that are perfectly fine for extending your holiday budget further. Our brands are primarily Hyundai, Kia, MG, Haval, and Nissan. Whilst there are a few other mainstream brands, our vehicles are mainly chosen for their reliability, economy, boot size and their ability to meet specific needs of our customers.
WHAT ABOUT AN SUV HIRE OR MINIBUS HIRE?
Yes , all our SUVs are 2 wheel drive. For example Hyundai Tucson SUVs and new Nissan X-Trail SUVs. We also have a variety of Havals and MGs for hire. These are very popular, so don't delay if you want one. As an alternative to an SUV, we still have a couple of large Falcon Stationwagons which prove very popular with surfers and larger families. There are usually limited numbers of new or used 7 or 8 Seater vans (also known as peoplemovers or minibuses) available on the Sunshine Coast. Consequently, if you wish to book one of our's it is best to book as far ahead as you can to ensure availabilty of this type of vehicle.
Although our people movers have generous luggage space when not fully loaded, it is always worth discussing luggage capacity with our staff if you have luggage for up to eight people to carry. Eight people in one van does not leave a great deal of luggage room. Smaller soft bags are the ideal answer as large hard cases may not all fit in the available space.
OUR OPERATING HOURS
Our normal Office Hours are:-

Mon to Saturday 8 am to 5 pm (Yes, our staff need to get home too).

Sundays and Public Holidays 9-30 am to 1-30 pm (The owners need a little bit of 'time off').

Sorry, we are closed Christmas Day. (Ring us for alternative Pick Up options from Sunshine Coast Airport.)
Please Note; As we come out of this Covid-19 Pandemic, our Office at Marcoola is now manned most of each working day. Please note our reduced hours on Sundays and Public Holidays. Our office may still be operating remotely however, arrangements are always made for vehicle pick-up and drop-off. Please give us a call on (07) 5450 5090 to discuss your needs. If you wish to view any of our campers that are not currently out on hire, please always ring first to arrange a suitable viewing appointment time. That way we can help you avoid at trip to our office at a time when no-one is free to show you through a van or when the van may have already been hired out.
AIRPORT AFTER HOURS ARRIVALS
Flying into our local airport After Hours or before Opening Hours? Or are you flying out before we open? No worries! At Aussie Bargain Car Rentals we have developed very easy and inexpensive systems which allow you to pick up your hire car or drop it off in the airport car park. Many hundreds of our customers use this system each year and love it's convenience and simplicity. Just give our customer service staff a call to to arrange.
We also provide a free Pick Up service from local holiday accommodation for travellers who are already on the Sunshine Coast. Please feel free to ring (07) 5450 5090 for details.
CONVENIENT CENTRAL SUNSHINE COAST LOCATION
The Sunshine Coast (Maroochydore) Airport is located centrally along the coastal strip in the suburb of Marcoola. Being based at the airport on the edge of the industrial area, we are also coveniently located in a central position on the Sunshine Coast.
Getting to Mooloolaba or Maroochydore is just a quick 10 - 15 minute trip south along the Sunshine Motorway. Coolum is a similar distance heading north along the David Low Way.

Heading to Noosa? Its an easy drive 30 - 35 minutes north. Caloundra is a similar distance south; while Nambour is just 20 mins drive inland. The main Sunshine Coast Railway Station is located at Nambour, so we can arrange hire vehicle pick ups or drop offs for you at the Station if you require. Just give us a call on (07) 5450 5090 to arrange this.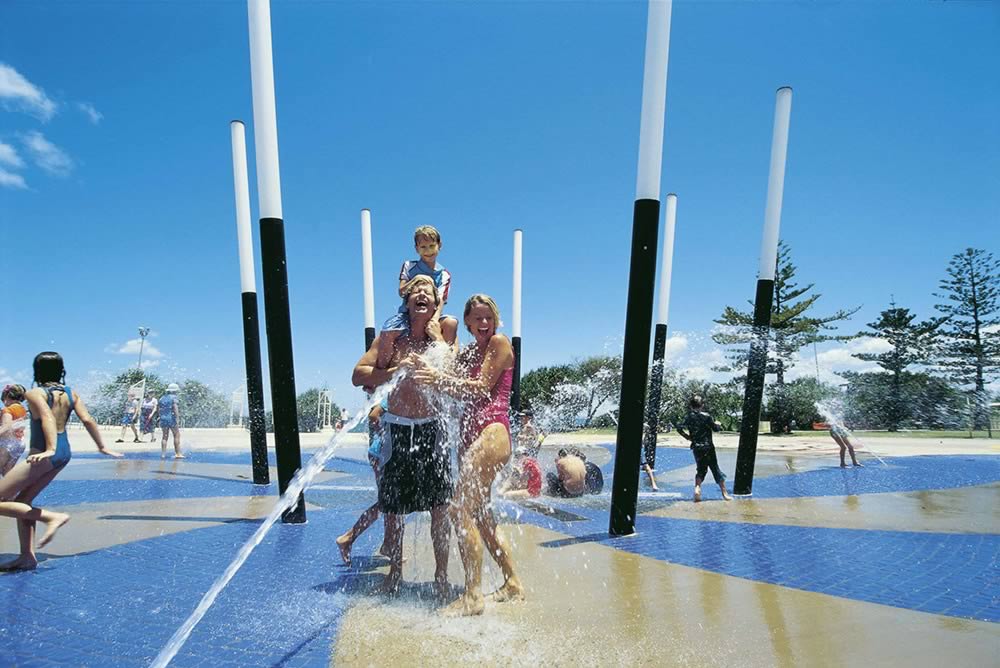 The ever popular children's water playground at Kings Beach, Caloundra.
AIRPORT AND ACCOMMODATION PICK UP SERVICE
During business hours Aussie Bargain staff will happily pick you up from outside the Airport Terminal, or your local accommodation and deliver you to our office to collect your Sunshine Coast car rental; usually in the actual car you are hiring. We will also return you to your local accommodation or the Sunshine Coast Airport Terminal at the conclusion of your hire. No charges apply for these local pickups and dropoffs during normal business hours.

Local Pick Ups and Drop Offs are FREE for the wider area between Mooloolaba and Coolum for hires of 3 days or more; subject to time and staff availability. Further away Sunshine Coast Pick Up and Drop Off locations and one or two day hires attract a pick-up fee or may be subject to minimum hire periods.
No, or Low Contact Vehicle Pick-ups and Drop-offs.
In this post pandemic period, we are offering our Sunshine Coast Airport customers the oportunity of a "No, or Low Contact" pickup from outside the Arrivals terminal. Please Note; All arrivals where loading of the car is likely to be longer than the stipulated two minute Pick-up allowance, you may be requested to walk over to the Terminal Car Park and receive your car there. On booking your car you will be given details of these procedures. We request that you make your decisions regarding excess reduction before you book to make this process seamless. Hires will be charged through prior to your flight to ensure a quick and efficient Pick-Up procedure
BUS STOPS NEAR AUSSIE BARGAIN OFFICE
There are local bus stops in Marcoola, Mudjimba and Pacific Paradise and also at the Sunshine Coast Airport terminal. There is no charge for pick ups and drop offs at these convenient bus stops.

Buses to or from Coolum, Noosa or Maroochydore provide a very cost effective way of picking up or dropping off your hire car if you are not flying out of the Sunshine Coast Airport.
RIDE TRAIN - HIRE CAR
Our nearest train station is in Nambour. If you are travelling by train and would like a rental car to get around the Coast easily, we can usually make that happen for you. Contact our customer service staff for options to pick up or drop off your car at Nambour Railway Station. For shorter hires a small delivery/pick up charge may apply. We also can arrange vehicle pickups and dropoffs at the Shell Panorama Service Station at the southern end of Nambour, at mutually convenient times.
FREE CAR HIRE ADVICE
If you are unsure how or where you are going to pick up or drop off your rental vehicle, or the various attributes of a particular vehicle, please feel free to ring us for advice. Our customer service team are keen to assist you with both suggestions and directions when required.

Phone: +61 (0)7 5450 5090
Mobile / Cell Phone: +61 (0)424 221 770
Email: via our Contact Us page
TO BOOK A HIRE CAR
Use the quoting and booking box at the top of this page to Get a Quote or Book a Vehicle.
CAMPERVAN or MOTORHOME RENTAL QUOTE
To obtain a quote or book a Campervan hire or Motorhome hire on this website, please select 'CAMPERVAN HIRE - Sunshine Coast' from both the 'Pickup Location' and 'Return Location' drop-down boxes in the Quote/Booking panel at the top of the page. OR book direct on the Sunshine Campervan and RV Hire website
Please use the contact form on this website for general enquiries only. All requests for quotes or bookings should be directed through the Quotes/bookings box at the top of most pages.
AUSSIE BARGAIN AFILLIATES AROUND AUSTRALIA
We work with a number of similar car hire companies elsewhere in Australia please use the links below for more information.: