Sunshine Coast Car Hire
Car Hire Sunshine Coast
Hiring a car when travelling here gives you the freedom to go where you want around the Sunshine Coast, at the time you want. Here at Aussie Bargain Car Rentals, we make Sunshine Coast car hire both easy and affordable.
Since starting small in September 2005, we've grown to be the largest locally based, independent Sunshine Coast airport car hire company. People from all over Australia and overseas use our services, because our tight-knit team works hard to give great service with the best prices and deals. We focus on being transparent and up-front about our costs and what we're offering. No worrying about how much it is all going to cost.
Aussie Bargain Car Rentals works with you to make sure you get the best, cheapest deal available. In no time you'll be driving off to enjoy the sunshine.
Have you ever visited the beautiful Kings Beach at Caloundra?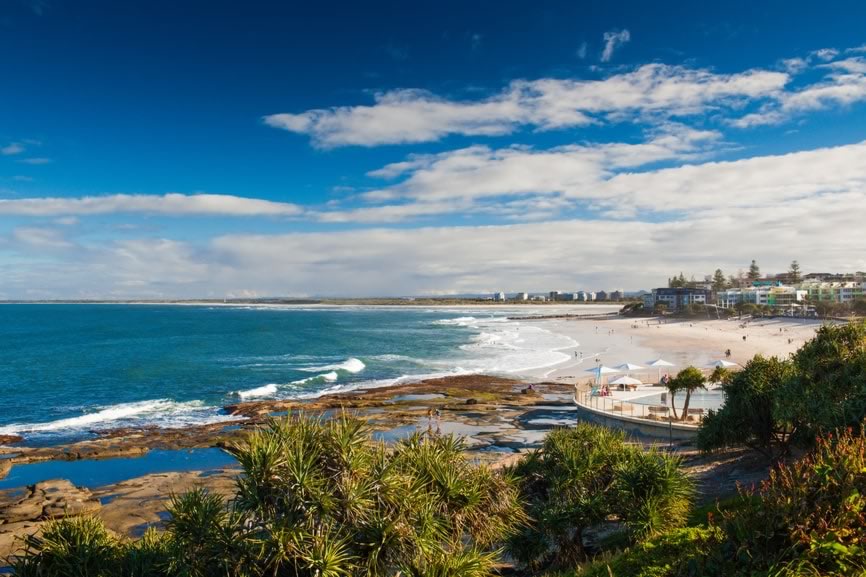 The Aussie Bargain Car Rentals Fleet

Organising Sunshine Coast Car Hire can be a daunting process. With us you don't need to have to sort through false promises and fine print to get your holiday under way. We keep it simple for you.
Our range of cars caters to a variety of needs so you can find what works best for you. We have both new cars and earlier models in a wide range of brands. You can choose from our many Hyundai models, including the Tucson SUVs and your choice of Hyundai Elantras, Accents or i30s, or perhaps opt for a cheaper used Nissan Tiida Sedan or Kia Rio hatch. Perhaps the stylish new Kia Cerato sedan is more to your liking. And now we can hire you a larger Nissan X-Trail two wheel drive SUV; the ideal choice if you need plenty of room, yet want tons of style, amazing economy and the latest in safety features.We even have 7 and 8 seater peoplemovers for those larger groups.
Off to ride the famous waves on the Sunshine Coast? Mention you'll be travelling with a board and we'll make sure you have the right car and surf board rack for your needs. Have the kids with you? We can offer child safety seats and strollers to make your family holiday safe and stress-free.
Our Car Rental Prices
At Aussie Bargain you can rest assured we'll be totally transparent with you. We bring you cheap car hire with no hidden fees, extra charges or complicated insurance options. The major car rental companies can charge upwards of $25-$35, or more per day and still only cover you for a multiple vehicle accident. However we offer you affordable inclusive options that will cover you whether you're in an accident by yourself OR with another car.
Looking to take an extended holiday? Our long term rates are very attractive. You will find we offer extra discounts on rentals longer than 10 days.
Dash of a Kia Cerato sedan
OUR PROMISE TO YOU
Cheap car hire in the Sunshine Coast with quality, well prepared and cleaned vehicles, is not always easy to come by; but that's what sets us apart. All of our prices are fully inclusive - we want to make sure you won't get any nasty surprises when you pick up your car. That is our promise to you.
We also want to make your stay as easy and relaxing as possible from the moment you touch down, so we can pick you up for your Sunshine Coast Airport car rental from right outside the arrivals terminal. Our office is just 400 metres away. If you're not at the airport, we're happy to arrange a pick up or drop off from a train station, bus stop or local holiday accommodation. Call us in advance to get this sorted and start your holiday off on the right foot.
You will find we're readily available to help whenever you need us. We're open seven days a week and can also be reached by phone, email or through our website. As locals, our staff members have knowledge of the area and can guide you toward some of our favourite attractions. If you're leaving the Sunshine Coast, we'll do our best to offer recommendations on what you can see and do in other nearby areas.
So if you're interested in cheap car hire in Sunshine Coast, we suggest you take advantage of the easy quoting and booking service at the top of the page. Alternatively feel free to give us a call on (07) 5450 5090, or if you prefer, flick us an email with any questions.