Car Hire Sunshine Coast
Making Car Hire Easy
Sunshine Coast Car Hire is easy with Aussie Bargain. We are continually refining our systems to improve the process. E-signatures on your rental contract, links to photos of the vehicle condition and "low" or "No Contact" Pick-ups are examples of recent improvements in how we operate. Enjoy the freedom to go where you want around the Sunshine Coast, at the time you want. We make Sunshine Coast car hire both easy and affordable.
Car Hire during Covid
We are currently completing our Pick-ups and Drop-offs using "No Contact" or "low Contact methods; for your safety as well as ours. If you are flying into or out of the Sunshine Coast Airport please discuss available proceedures with our office staff.
If you are at all unwell, please do not enter or visit our depot. We suggest you ring us to discuss your needs instead. During Covid, we are paying extra attention to hygiene when preparing our vehicles for hire. Extra sanitation measures are in use, plus we use an Ozone Generator on our vehicles as an extra precaution. We want to ensure our customers as well as our staff remain as safe as possible.
About Aussie Bargain Car Rentals
Since starting small in September 2005, we've grown to be the largest locally based, independent Sunshine Coast airport car hire company. People from all over Australia and overseas use our services because our tight-knit team works hard to give great service with the best prices and service. We focus on being transparent and up-front about our costs and what we're offering. No need to worry about how much it is all going to cost.
Finding the right Sunshine Coast Car Hire company can be a daunting process; especially during Covid as several local car rental companies have had to close down. At Aussie Bargain we have worked hard to ensure we are still here to meet your car hire needs. Our focus remains on assisting our customers with affordable travel options. With us you don't have to sort through false promises and fine print just to get your holiday under way. We keep it simple for you, without compromising on our standards. Our systems are quick and efficient. In no time you'll be driving off to enjoy the sunshine.
Have you ever visited the beautiful Kings Beach at Caloundra?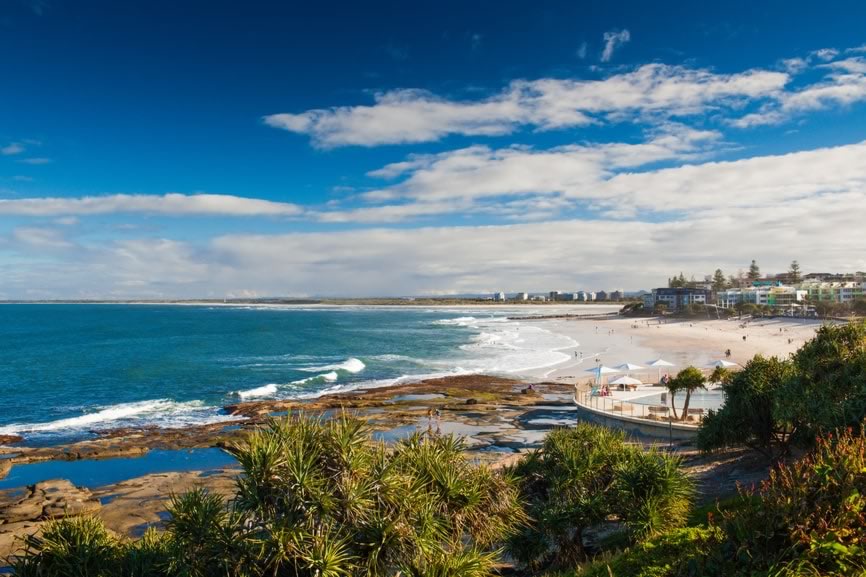 The Aussie Bargain Car Rentals Fleet

The Aussie Bargain fleet caters to a variety of needs so you can find what works best for you. We have mainly new and late model cars in a wide range of brands. Choose from our many sizes and models, including the new Haval H2, MG HS, Haval Jolion or Hyundai Tucson SUVs.
Looking for something smaller? Try a new MG3 Hatch, or a late model Hyundai i20, Accent Hatch or Accent sedan. Perhaps the stylish Kia Cerato sedan is more to your liking. We can hire you a larger Nissan X-Trail two wheel drive SUV; the ideal choice if you need plenty of room yet want tons of style with amazing economy. We still have 7 and 8 seater peoplemovers for those larger groups. Maybe you could try out the new Kia Cerato (2022) sedan with all it's latest safety features.
Off to ride the famous waves on the Sunshine Coast? Mention you'll be travelling with a board and we'll make sure you have the right car and surf board rack for your needs. Have the kids with you? We can offer child safety seats and strollers to make your family holiday safe and stress-free.
Our Car Hire Prices
Looking for better car hire prices? At Aussie Bargain you can rest assured we'll be totally transparent with you. Yes, prices have increased, along with vehicle and other costs. However we still endevour to bring you affordable car hire with no hidden fees, extra charges, or complicated insurance options. With Excess Reduction, some of the major car rental companies can charge upwards of $25-$35, or more per day and still only cover you for a multiple vehicle accident. However we offer you affordable inclusive options that will cover you whether you're in a single vehicle accident OR a multiple vehicle accident.
Looking to take an extended holiday? When available, our long term rates are very attractive. You will find we offer extra discounts on rentals longer than 10 days.
Dash of a Kia Cerato sedan
OUR PROMISE TO YOU
Cheap car hire in the Sunshine Coast with quality, well prepared and cleaned vehicles is not always easy to come by; but that's what sets us apart. All of our prices are fully inclusive - we want to make sure you won't get any nasty surprises when you pick up your car. That is our promise to you.
We also want to make your stay on the Sunshine Coast as easy and relaxing as possible from the moment you touch down, so we provide your Sunshine Coast Airport car rental from right outside the arrivals terminal. If required, our office is just 400 metres away. If you're not at the airport, we can often arrange a pick up or drop off from a train station, bus stop or local holiday accommodation. Call us in advance to get this sorted and start your holiday off on the right foot.
You will find we're readily available to help whenever you need us. We're open seven days a week and can also be reached by phone, email or through our website. As locals, our staff members have knowledge of the area and can guide you toward some of our favourite attractions. If you're leaving the Sunshine Coast, we'll do our best to offer recommendations on what you can see and do in other nearby areas.
So if you're interested in cheap car hire in Sunshine Coast, we suggest you take advantage of the easy quoting and booking service at the top of the page. Alternatively feel free to give us a call on (07) 5450 5090, or if you prefer, flick us an email with any questions.