Vehicle Features Swift Escape 686 Motorhome
'The Noosa' - Vehicle Specifications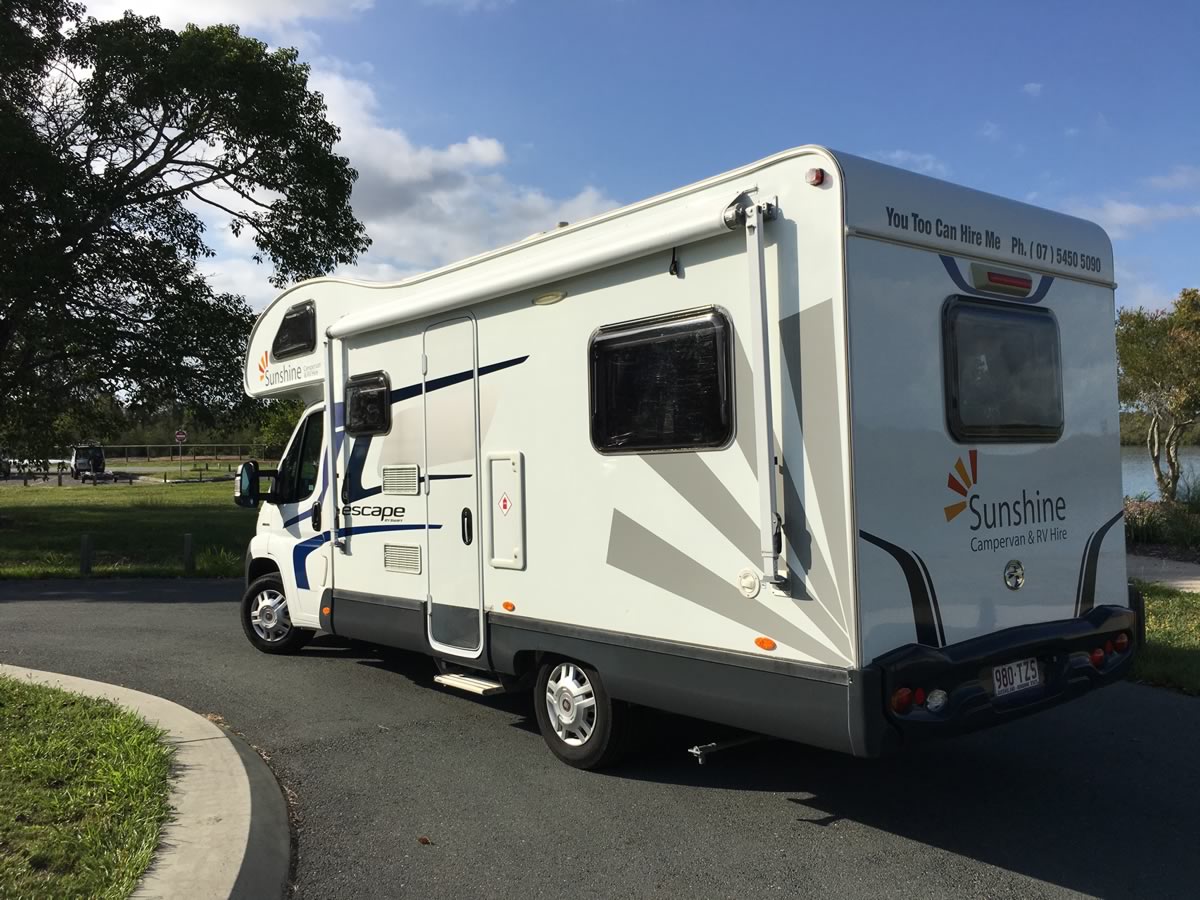 Vehicle Age - 2013 Model. New in fleet August 2014
Capacity - 5 Berth. ( Sleeps maximum of 5 inside vehicle). (Free tent and bed supplied if 6 persons travelling)
Seatbelts - Total of 6 (2 in driver's cabin and 4 in rear living area).
Baby/Booster Seat Fitting - Sorry, NO restraints for Baby or Secured booster seats at present
Audio System - AM/FM Radio with single CD player & Bluetooth phone connection/USB – in front cab
DVD / TV - HD flat screen TV & DVD player combo (TV reception will vary upon location)
Reversing Camera - Yes
Reversing Sensors - Yes
Accessories Power - 12V charge suitable for video-camera batteries
Air-conditioning - Yes – Rear - Sparrow Air Command with Sleep Mode + cool, dry, heat & fan.
- Yes – Front Cab – standard Fiat Ducato Air conditioning
Fuel - Diesel ONLY - 75 litre tank
Fuel Consumption - Officially approximately 14 litres per 100 km. Obviously fuel economy will vary subject to the use of air-conditioning, temperature,terrain and drtiving style. Both our customers and we find this vehicle to be remarkably cheap to run and we usually get closer to 10.5 litres per 100 kms.
Engine Specifications - 2.3 litre Fiat Multijet Turbo Diesel Euro 5+
– 130 bhp (96kw @ 3600 rpm, 320 Nm @1800 rpm)
Transmission - 6 speed Manual
Power Equipment - Power steering,
- ABS (Anti-skid Braking System),
- EBD (Electronic Brakeforce Distribution)
Tyres - Specific15 inch Motorhome Tyres - Tyre pressure should be checked regularly. Front 72.5 psi, Rear 79.5 psi
Vehicle Living Features
Sleeping Configuration - 1 x convertible Double bed at rear (2.08m x 1.34m)
- 1 x convertible single/double bed in front dinette – Front offside single 1.82 x 0.92 m (suitable children/small to average height adults)
- 1 x permanent double bed above cab (Luton Peak) 2.08 x 1.37 – suitable for one adult or one child
Note: This vehicle is rented out as a 5 Berth. If 6 persons wish to hire the vehicle, a separate tent will be supplied to allow sufficient sleeping room for the sixth person.
Fridge - 80 litre – 3 way (12 volt, LPG or 240 volt)
Gas Cooker - 4 burner (LPG) gas stove and oven
Gas Bottles - 2 x 4 litre bottles – accessible from outside of van in locked cupboard.
Microwave - NO
Bathroom Facilities - Yes –internal shower, vanity and storage
Toilet - Yes – internal – Thetford C260 swivel with electric powered flush
Water Heater - Yes, Pressurised hot and cold water
Fresh Water - Tank 65 litres
Grey Water Tank - 68 litres – with level sensor
Lighting - Interior lights operate on the 12V battery (or 240 Volt, when connected)
Climate Control Air-conditioning and heating - in drivers cabin; also in main cabin when connected to 240V.
Fly Screens - Yes in all living area windows and vents
Window shades - Yes in all living area windows
- Yes – all windows in front cabin
Flooring - Linoleum in living area
Internal walk-through access - Yes
Fire Extinguisher - Yes, plus Fire Blanket
Furniture - Outdoor Table & Chairs setting is available ( currently supplied for free with each hire)
Power Supply - 12/240/ volt/15 Amp power system
DVD/TV Combo
Smoke Alarm & Carbon Monoxide Alarm - Yes – both are beside rear entrance door
Awning - Yes – Dometic Sunchaser – Side and end screens plus floor matting are available for hire as accessories - with prior notice - subject to availability.
Dimensions
Length 6.92 m
Width 2.31 m
Height 2.95 m
Interior Height 1.92 m
Luggage
We strongly recommend that you use soft, foldable bags instead of suitcases for your luggage. Soft bags take up less room and fit easier into the storage cupboards and lockers in the vehicle.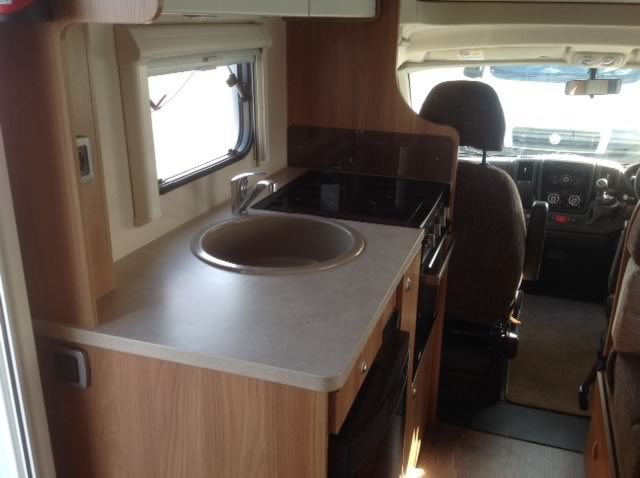 Motorhome Inclusions
Living Equipment Included - This vehicle is equipped with all your kitchen and basic camping equipment. If you are flying into the Sunshine Coast or are a vistor, we have linen/bedding available to hire. If you are local, you may prefer to bring your own. Other than that, pretty much all you need bring is your clothes and personal items.
Arrangements can be made to place grocery and fridge food into the vehicle if you arrange to purchase from a local supermarket and have delivered to us in time for your hire. Both Coles and Woolies provide online shopping services and deliveries. Please discuss this option with us in advance of your hire.
Kitchen Contents
plastic wine glasses
plastic storage container
LED Torch
pair scissors/shears
sharp knives (meal preparation)
Electric Jug
Electric Toaster
steak knives
knives, spoons, forks
vegetable peeler
plastic drinking glasses
dinner plates
small plates
desert/breakfast bowls
coffee cups
ladle / spatula set
tin/bottle opener
pairs of tongs
Cutting Board to fit sink
Dish drainer
Other Items
Kettle
Frying Pan
medium & small saucepans
mixing/salad bowl
dustpan & brush set
Drinking Water Hose - Food grade quality
Grey water hose
Pegs in container
Clothes line
Chux and microfiber cloths
Tea Towels (in hire packs)
Small bottle Detergent
240 volt/15 Amp Electric Power Cord for Vehicle Power Supply
Bedding available for hire
Pillows, Doonas, Sheets, Towels, face washers and tea towels are available to match the number of persons travelling.
DUVALAYS - (an enclosed sheet, doona and memory foam topper pad bedding system) may be available to hire as an alternative to the above bedding items. There are a limited number of these, so they are subject to availability and need to be pre-ordered if available. These are an excellent camping accessory and are a very convenient bedding system alternative to sheets and separate doonas when travelling in a campervan or motorhome. The enclosed doona can be removed during summer months to avoid overheating. Check out the Duvalays here.
Many of our local customers prefer to bring their own towels, bedding and pillows and save on these hire costs. So linen is supplied only upon request (at an additional charge).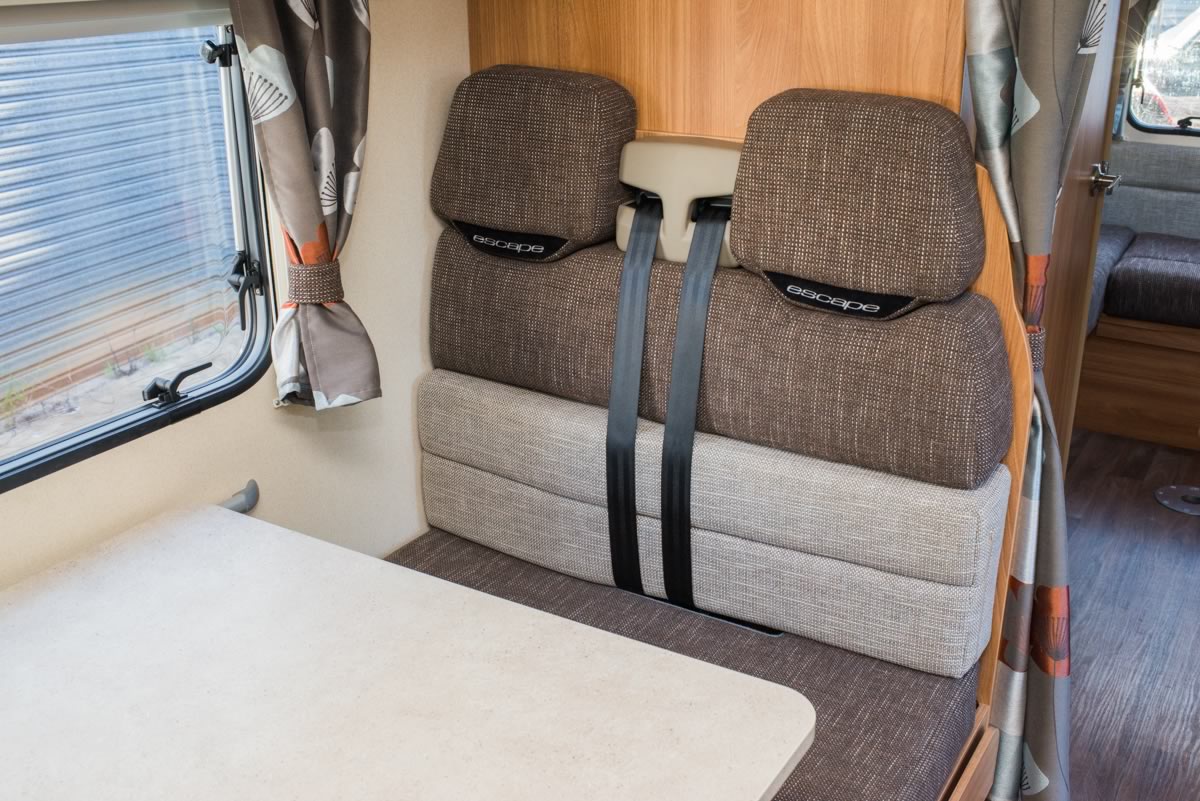 Accessories available for hire
Amphibian Residual Current Device (Safely connect the Motor home 15 amp system to a 10 amp supply e.g when you are connecting to a friend's or relative's house which normally would have a 15 Amp supply only.
Additional basic camp chairs
Higher quality Coleman Camping Chairs
Outside Camping Table (lightweight and convenient to use outside under the awning)
In line Water Filter (Connects between Motorhome water supply hose and a water supply tap)
Collapsible bucket (Handy for many uses whilst camping)
Ground Cover for under awning (Covers the sand and grass under the awning - keeps everything so much cleaner)
End panel for awning (Increased privacy and wind and sun protection)
Side Panel for awning (Increased privacy and wind and sun protection)
Hand operated washing machine (Very handy if free camping)
Solar panel package (extend the life of your 12 volt battery power and stay free camping longer) - we have both hard free standing and folding solar panels - subject to availability.
To obtain a quote for your desired time periods, or to book this Motorhome, please scroll to the top of this page - Insert 'Campervans/Motorhomes' in the Location dropdown box and select the same in Vehicle Type, then hit SEARCH. This will give you availability of the various vehicles and prices.
To see what this vehicle looks like inside and out you can view a Swift 686 video made by the the Swift Motorhome manufacturers. The video shows an identical vehicle with identical colour scheme and furnishings inside. The only real difference is that our model has had reverse cycle air conditioning fitted here in Australia.