Campervan Rental - 3 Berth Inclusions
Vehicle Specifications The Stradbroke Premium Campervan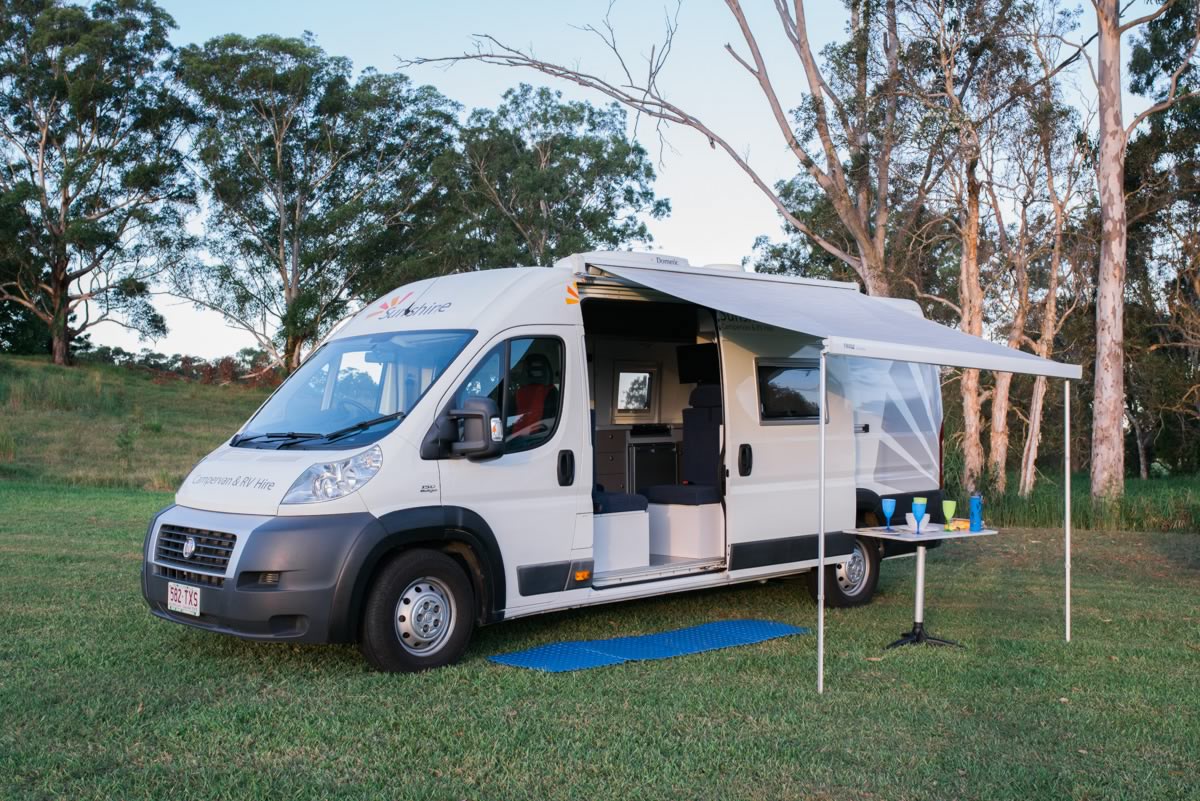 Vehicle Age
2013 Model. 2014 new Fitout. Interior updated 2018. New in fleet October 2014
Sleeping Capacity
This vehicle has been modified to be a 3 Berth maximum. It can accommodate up to two adults and one child or one adult and one or two children. It is still an ideal vehicle for 2 adults wanting the comforts of a motorhome, but preferring a smaller vehicle at a cheaper price than the larger motorhomes.
Seatbelts
Total of 4 (2 in driver's cabin and 2 in rear living area).
Baby/Booster Seat Fitting
Vehicle has one child restraint location point in forward facing rear seat.
Audio System
AM/FM Radio with single CD player & Bluetooth phone connection/USB – in front cab
DVD / TV
HD flat screen TV & DVD player combo (TV reception has been enhanced by conversion to a fold up style aerial, which gives much better reception than the previous omni style aerial).
Accessories Power
12V charge suitable for video-camera batteries. USB connection point in cab.
Air-conditioning
Yes – Rear - New (2018) Reverse Cycle Air Conditioning fitted to rear cabin (240 volt use only, so can only operate when plugged into a 240 volt power source, such as in an official camping ground or caravan park) A 15Amp to 10 Amp adapter is available for hire which then enablesafe and legal connection to a houshold 240 volt, 10 Amp power supply.
The front Cab has the standard Fiat Ducato vehicle Air conditioning, as you would expect.
Fuel
Diesel ONLY - 75 litre tank (Addition of any other substance or fuel causes very expensive damage which the hirer must pay for).
Fuel Consumption
Approximately 10.5 litres per 100 km. This will vary subject to the use of air-conditioning, temperature,terrain and drtiving style.
Engine Specifications
2.3 litre Fiat Multijet Turbo Diesel Euro 5+
150 bhp (110kw @ 3600 rpm, 320 Nm @1800 rpm)
Transmission
6 speed Manual
Power & Safety Equipment
Power steering,
ABS (Anti-skid Braking System),
EBD (Electronic Brakeforce Distribution)
Tyres
Specific16 inch Motorhome Tyres - Tyre pressure should be checked regularly. Front 72.5 psi, Rear 79.5 psi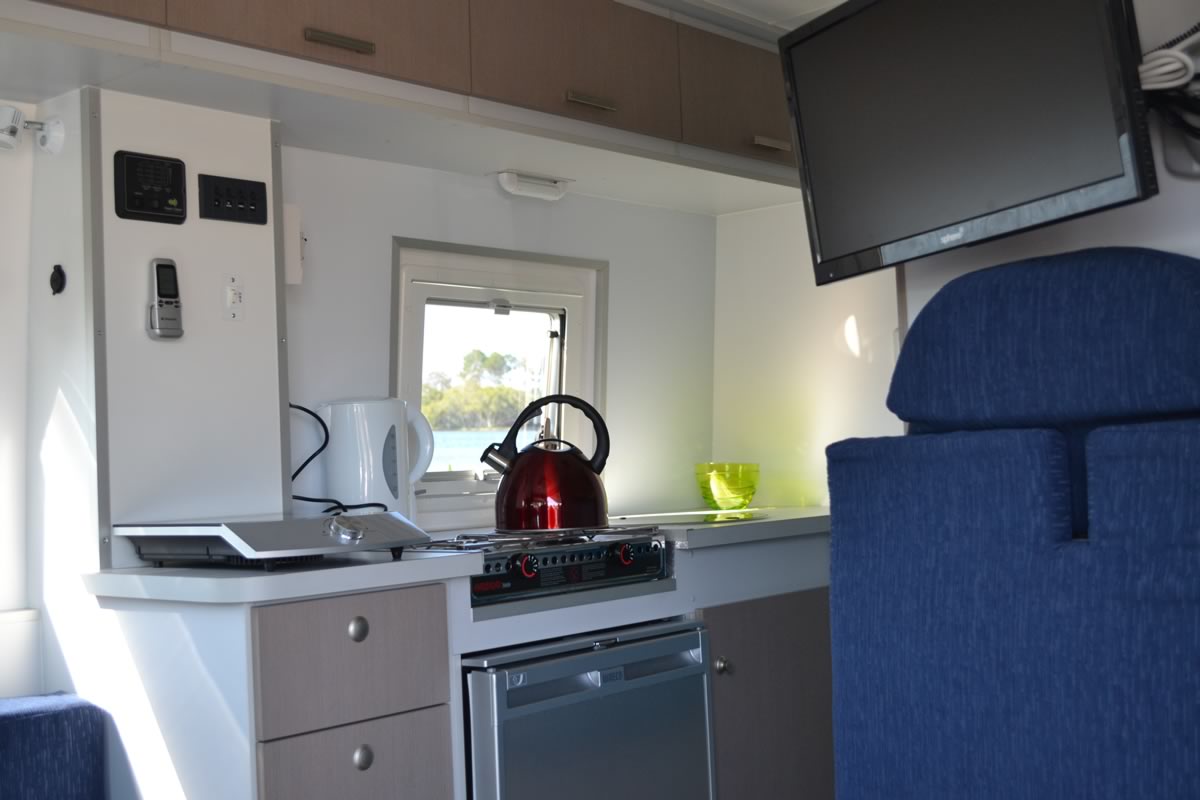 Vehicle Living Features
Sleeping Configuration
1 x convertible Single or Double bed at rear in dinette area.
A permanent single bed is situated in rear the of vehicle.
Fridge
Waeco 90 litre – 2 way (12 volt or 240 volt)
Cooking Facilities
Dual, built in, Induction Cooker for internal cooking. This is a clean, efficient and fast way of cooking but requires connection to a 240 volt power supply such as in a caravan park. Induction compatible pots, pans and frypan are supplied in this vehicle. A quality two burner outdoor camping stove is available for outdoor cooking where required; at no extra charge.
Gas powered BBQ available - for outside cooking only, supplied in place of camping stove when requested.
Microwave - NO
Sunshades front cab windows - Temperature control and privacy
Bathroom Facilities
Yes –internal hand basin, vanity and storage with external shower. Shower tent supplied free of charge if requested.
Toilet
Yes – internal – Thetford C260 swivel toilet with hand pump powered flush
Water Heater
Yes, Pressurised hot and cold water (10 litre tank) Hot water available only when plugged into 240 Volt power supply.
Fresh Water
Tank 65 litres - level sensor
Grey Water Tank
68 litres – with level sensor
Lighting
Interior and exterior LED lights - operate on the 12V batteries
Fly Screens
Yes in all side windows and vents in rear of vehicle
Window shades or Curtains
Yes in all living area side windows
Flooring
Linoleum in living area
Internal walk-through access
Yes - easy access to rear
Fire Extinguisher
Yes, plus Fire Blanket
Smoke Alarm
Yes
Furniture
Indoor Table - can be used outdoors. Camping Chairs are provided along with an outdoor table is supplied for free for use with Camping Stove, or portable BBQ when supplied with this vehicle.
Power Supply
12 volt 2 x 120 AH Deep Cycle batteries. AQ 240 volt 15 amp power lead is supplied for use with camping ground connections
Solar Panel
This vehicle has a 140 watt solar panel the roof to help maintain adequate charge in the house batteries. Quality 240 volt and 12 volt chargers and electrical controllers reduce the possibility of insufficent power supply whilst travelling or camping.
DVD/TV Combo - 12 Volt
TV reception has now been enhanced with provision of a FOLDAWAY TV Aerial. The TV can also be used as a DVD player when required.
Awning
Yes – Fiamma - wind out - 3 metres long – for use as sun awning in calm weather only. Not to be used during rain or windy or stormy conditions
(Floor matting is available for hire as an accessory).
Dimensions of Vehicle
Length 6.92 m
Width 2.31 m
Height 2.95 m
Interior Height 1.92 m
Luggage
This vehicle has a good storage area under the rear lbed, which is accessed from the rear of the vehicle. It also has generous cupboard room in and above the kitchen area, an upper and lower wardrobe and limited under seat storage.
NOTE: We strongly recommend that you bring soft, foldable bags instead of suitcases for your luggage. Soft bags take up less room and fit easier into the storage cupboards and lockers in the vehicle. Hard or large sitcases may be stored for free at our Sunshine Coast location until your return to that pick up location. hard cases are not suitable for transportation in this vehicle.
Motorhome Inclusions
Living Equipment Included - This vehicle is equipped with all your kitchen and basic camping equipment for those flying into the Sunshine Coast, or Brisbane Airports. Bedding and towel/washer packs are available for hire for those who require it.
Supply of your own linen/bedding, towels etc may be preferred by locals e.g. Sunshine Coasters. Otherwise, pretty much all you need bring is your clothes and personal items. Arrangements can be made to place grocery and fridge food into the vehicle if you arrange to purchase these from a local supermarket and have delivered to us in time for your hire. Both Coles and Woolies provide online shopping services and deliveries. Please discuss this option with us in advance of your hire.
Kitchen Contents
4 plastic wine glasses
1 plastic storage container
1 LED Torch
1 pair scissors/shears
2 sharp knives (meal preparation)
1 Electric Jug
1 Electric Toaster
4 steak knives
4 knives
4 forks
4 desert spoons
4 teaspoons
1 vegetable peeler
4 plastic drinking glasses
4 dinner plates
4 small plates
4 desert/breakfast bowls
4 coffee cups
1 ladle / spatula set
1 tin/bottle opener
2 pairs of tongs
Cutting Board
Other Items
1 Kettle
1 Frying Pan (induction compatible)
1 medium saucepan with lid (Induction compatible)
1 small saucepan with lid (Induction compatible)
1 mixing/salad bowl
Small First Aid Kit ($30 to replace if used - and you keep the used one)
1 x dustpans & brush set
Drinking Water Hose - for filling fresh water tank in vehicle
Waste water hose to empty grey water tank
Pegs in container
Clothes line
Chux and microfiber cloths

Small bottle Detergent
15 Amp Electric Power Cord for power connection to camper

Bedding

Pillows, Doonas, Sheets, tea towels and personal towels are available for hire, to match the number of persons travelling. (if required)

Duvalays (an enclosed sheet, doona and memory foam topper pad bedding system) may be available to hire as an alternative to the above bedding items. There are a limited number of these, so they are subject to availability and need to be pre-ordered if available. These are an excellent camping accessory and are a very convenient bedding system alternative to sheets and separate doonas when travelling in a campervan or motorhome. The enclosed doona can be removed during summer months to avoid overheating. Check out the Duvalays here.

Many of our local customers prefer to bring their own linen (towels, bedding and pillows etc) . This helps keep their costs down,

Accessories available for hire

Amphibian Residual Current Device (Safely and legally connect the Motor home 15 amp system to a 10 amp house electrical supply)

In line Water Filter (Connects between Motorhome water supply hose and a water supply tap)

Collapsible bucket (Handy for many uses whilst camping)

Ground Cover for under awning (Covers the sand and grass under the awning - keeps everything so much cleaner)

Hand operated washing machine (Very handy if free camping for any length of time)
NOTE: To obtain a quote for your desired time periods, or to book this Motorhome, please scroll to the top of this page - Insert 'Campervans/Motorhomes' in the Location dropdown box and select the same in Vehicle Type, then hit SEARCH. This will give you availability of the various vehicles and prices.