Travel Tips
Choosing your car – Small, Medium or Large?
Its' an unfortunate fact that price is so often the deciding factor when choosing the type and size of car to be rented; but is it a smart move to choose the smallest option just because it is perceived to be the cheapest? Is a small car really going to be large enough for your needs?
With Aussie Bargain Car Rentals there are many cost effective options for those on a tight budget. Earlier model vehicles offer a very cost effective option for those who need a larger vehicle and don't mind driving used cars in good condition.

If you think you may need more room and low price is a deciding factor; consider hiring a larger used vehicle.
Is your rental car large enough for your luggage?
It sounds really obvious but small cars really do have small boots and you can't fit a lot of luggage in them, especially if there are 4 or 5 people in the car. Your options; either bring less luggage or hire a larger car.
Mid-sized sedans or even our larger SUVs are often very economical to run and have much more boot space than a small hatch. They also do not cost much more to hire. If boot space is a major consideration but you don't want to hire a larger SUV, consider hiring one of our Nissan Tiida sedans which have a massive boot space for a compact midsized sedan. Another great option are the Hyundai Elantra sedans which also have generous boot space. You can also fit a surprisingly reasonable amount of luggage into the boot of our new Kia Cerato sedans.
Need even more luggage room? Then hire one of our 2010 Ford Falcon stationwagons. Our largest SUVs are the Nissan X-Trail wagons which have quite a large amount of luggage space. You can always bring several smaller soft bags rather than large solid suitcases that do not fit well into most car boots. Soft bags are always easier to pack into a car boot.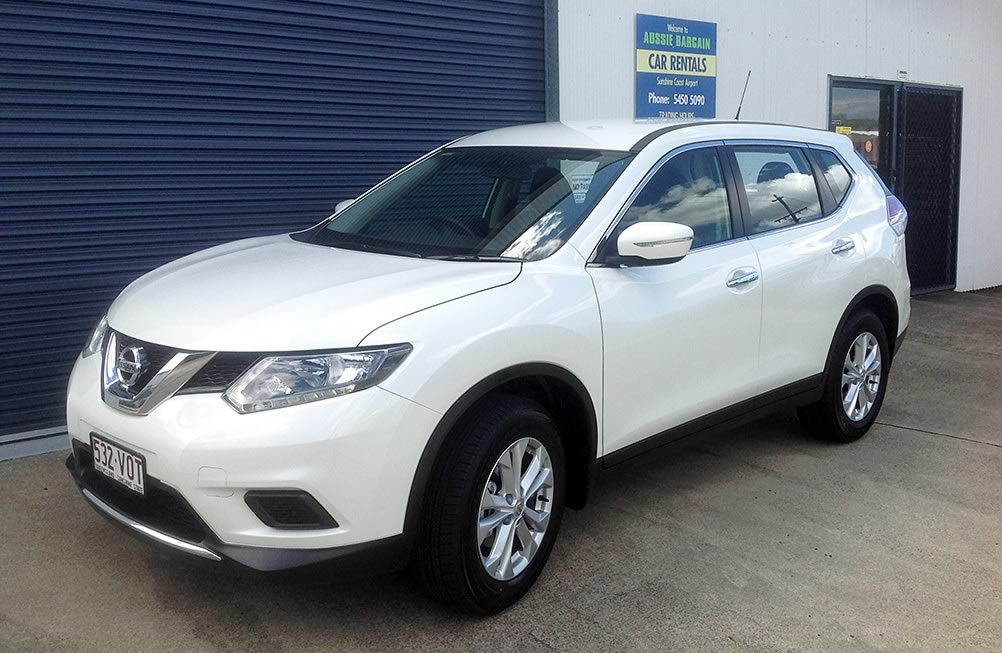 New Nissan X-Trail
Minimise the risk of back injuries.
Large solid cases may seem like a great way of only having to pack one bag, however they are usually heavy and difficult to lift in and out of car boots. Plus they take up far more space than two or three smaller soft bags totalling the same capacity. You can minimise the risk of injury to yourself or others handling your luggage by spreading the weight into two or more soft bags. They also are less likely to damage the paintwork on the rear bumper.
Cases too large for the rental vehicle you have ordered?
Large suitcases may require larger vehicles if there are two or more people travelling together. Where a number of people are travelling in the one vehicle, especially in an eight seater and each with large cases, they often cannot fit all their luggage in the vehicle. Consequently they may have to nurse their luggage all the way to their destination. Worse still, they may have to make a separate trip just to get ther luggage to their holiday destination. Not a fun way to start a vacation; but easily avoidable.

Soft travel bags are flexible and are much easier to fit in a vehicle boot space. There are some brilliant soft travel bags with wheels and handles available nowadays. Once you have made the switch, you are unlikely to switch back to large solid cases
Want to avoid unnecessary parking damage to your hire vehicle?
TIP – Use a human guide when backing. So many incidents of vehicle damage occur when backing or manoeuvring a rental car or van in tight spaces or where there is limited visibility. Take the time to ask one of your passengers or someone else to keep an eye out for obstacles and warn you before you contact a post or other item or vehicle. Like most accidents, parking incidents are avoidable if you take sufficient time and care; even in an unfamiliar vehicle.
Want to avoid a speeding fine?
Speed limits change regularly in Queensland; often in 10kph increments. It is easy to be distracted and miss the sign indicating a change to the area speed limit. When driving in an unfamiliar area it certainly pays to keep alert for the maximum speed limit that applies at any given time. Speeding fines are expensive: especially once administration fees are added. And no, you are not exempt from speeding fines in a rental car. The vehicle hirer is easy to identify and consequently will receive any traffic infringement fines from enforcement authorities. It is then up to the hirer to nominate, via statutory declaration, any other person who was driving at the time.
Avoid dehydration.
In a warm environment like Queensland it is very easy to get dehydrated; especially in the warmer months. A good tip is to get in the habit of carrying your own water bottle with you. Ideally you should aim for consuming 2 litres of water per day in the summer. Having your own water bottle and filling it with clean fresh water before you venture out each day can ensure you avoid dehydration even on hot days. Chilled, filtered water is available at the Aussie Bargain office so you can rehydrate after your flight and before heading off on your holiday or trip.
Listen out for Travel Advisories
Keep abreast of travel and road condition reports, especially during any adverse weather events, heavy rain, wind, flooding etc and always during the tropical storm season. If you have watched TV reports in previous years you will know that although we have predominantly great weather in Sunshine Coast - Maroochydore, it can rain heavily here during the northern cyclone season. Although most water drains away quickly, with periods of prolonged rain there can be flooding in low lying areas. At such times it pays to listen to local radio stations, watch TV weather updates and check road conditions on the Main Roads and RACQ websites. Rental cars are NOT covered for water emersion. Be aware and take care where you drive. Stay well clear of areas that may be flooding.
Trust the Road Signs
Every year we get a number of customers who get lost or find themselves running late for appointments or flights because their GPS is not up to date or because new roads have been constructed that are not yet showing on the latest GPS maps update. A great tip is to remember to trust the road signs whenever there is a conflict between what the GPS says and what the road sign indicates. The GPS COULD be wrong, whilst the road signs WILL be right.
Don't miss the wedding!!!
Or the funeral, or meeting, or any other time critical event just because you cut things too fine. It is very distressing to book flights allowing arrival at your destination with just enough time to get pick up your Sunshine Coast Car Rental and drive to your event, only to find the flight has been delayed and you have missed the very event you flew in here for. Whilst cancelled or significantly late flights are not are regular occurrence, Murphy's Law says that if you cut it too fine, then something will go wrong. Far better to book an earlier flight or fly in the day before, stay overnight and arrive at the wedding relaxed and on time.
Catch the Train
Train travel can be an interesting, fun and relaxing way to travel, but when you stop you still need to get around a local area.

Aussie Bargain Car Rentals offer a service delivering a hire car to Nambour Rail Station and allowing you to return it back to Nambour Railway Station or our Sunshine Coast Airport office, as best suits your needs. We can provide some very fleible options, so call our friendly office staff for a solution to your car hire needs while you are visting the Sunshine Coast.
Changed Flight Times
As a service to our customers, our office staff monitor flight times in and out of the Sunshine Coast Airport. Wherever possible, they will try and contact you if they become aware of changes to your Departure Flight times.

Periodically, flights are delayed for various reasons. Rarely a flight may need to depart early or may be cancelled and you may be placed on a different flight. We will assist where we can and make cars available for extended hire where possible, subject to vehicle availability. If you are unsure of flight changes, please feel free to ring our office staff for assistance. They will help where they can by checking the airport and airline website information for you.