Sunshine Coast Campervan Hire
SUNSHINE COAST CAMPERVAN HIRE AND MOTORHOME RENTAL
Are you looking for a campervan rental or motor home hire for a camping holiday on the Sunshine Coast of Queensland, South East Queensland, or along the Eastern coast of Australia? Aussie Bargain Car Rentals, in conjunction with Sunshine Campervan & RV Hire, are pleased to bring to you Campervan and Motorhome Rental Sunshine Coast Queensland.
PLEASE NOTE: During the COVID-19 pandemic period we are limiting the Area of Use for campervans and motorhomes in accordance with State government restrictions, State border closures and "Hotspot" notifications and infection levels. The situation regarding travel restrictions is constantly changing and being updated. It is the resposibility of persons hiring our vehicles to ensure that when the book, AND when they are travelling, they are legally allowed to travel into or through all areas that meet our approved Area of Use. Check with Federal and State Government websites for the latest announcements. We are updating our Approved Area of Use policies as restrictions are lifted or re-imposed. Check with our office for these.
We at all times reserve the right to restrict current Area of Use approvals in accordance with State government advice and of course weather and road conditions.
5 berth Motorhome Rental - 'The Noosa'
Is space, style and a good dollop of luxury your style? Check out our delux five berth Swift 686 Escape motorhome. With seatbelts for six, this new Fiat Ducato based 'motel on wheels' is your oportunity for the holiday of a lifetime. Like our other motorhome fleet, this stylish motor home is based right here on the Sunshine Coast; although it is available for longer hires from our Brisbane Motorhome Hire and Gold Coast Motorhome Hire agency depots. Check out the features, inclusions and specifications for the Swift 686 Motorhome. You can also view a video of the same model Swift 686 Escape with identical furnishings. Enjoy.
Photo below: The Noosa 5 berth Motorhome
Hi-top Campervan Hire - 'The Byron' (Manual)
New to our fleet in May 2015 is an excellent Toyota Hiace 2 berth campervan. We have named it 'The Byron'. This exciting little vehicle has all the features you would expect in a much larger vehicle, yet gives you the renown Toyota reliability and the fuel economy of a smaller vehicle that helps you spread your camping holiday dollars so much further.
No more worrying about whether the cheap old, high kilometer campervan you were planning to hire elsewhere, is going to make even as far as Gympie; or leave you stranded on some lonely stretch of the Bruce Highway. This late model Campervan from Sunshine Campervan and RV Hire, is in excellent condition, with moderate kms and even comes with Roadside Assistance for your complete peace of mind.
Photo below: The 'Byron' 2 berth (manual) campervan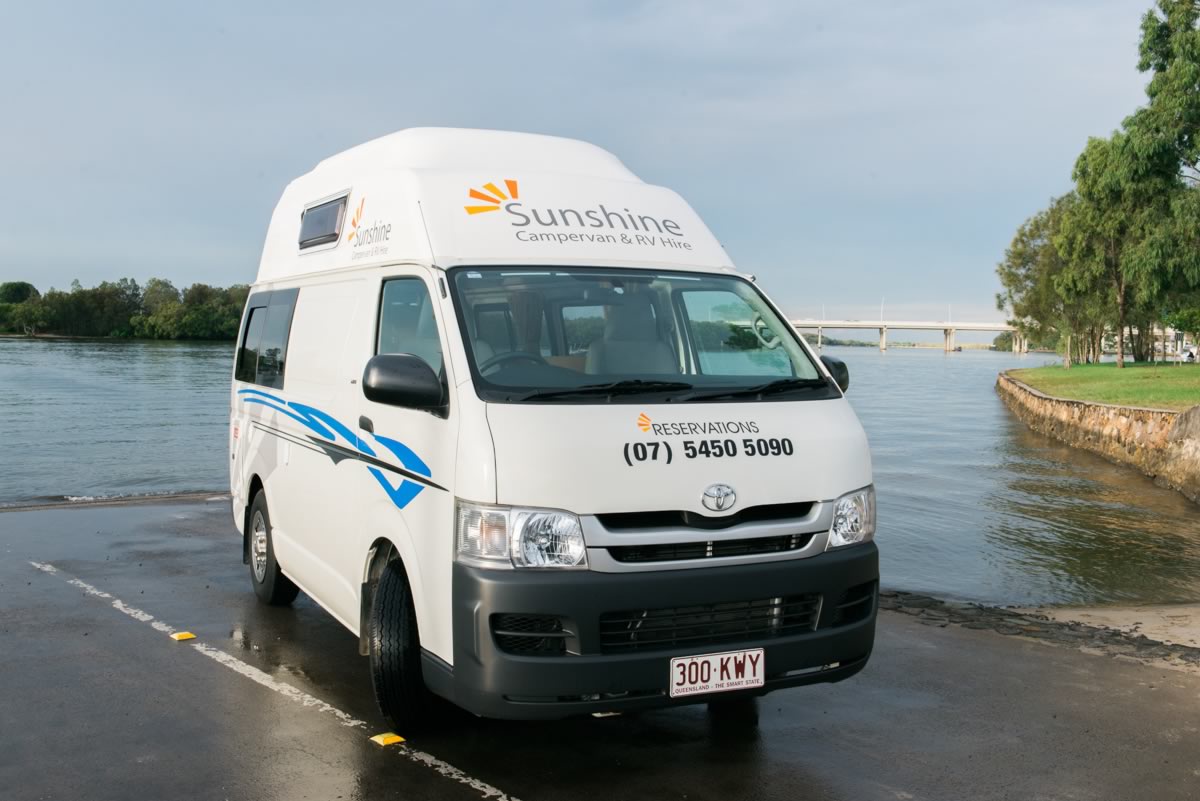 Toyota Hiace Hi-top Campervan - The Mandalay 2 (Auto)
In September 2016 the standard 'Byron' was joined by a brand new Hiace Hi-top 2 berth campervan (See Below). Recently renamed as the Mandalay 2, this camper is an automatic and is also more suitable for 'free camping', having two house batteries instead of the usual one. It also has a solar panel fixed to the roof to extend any free camping period, without 240 volt power, to several nights. You can now enjoy increased luxury in a compact camper for 2 persons, with an automatic gearbox and the latest in electrical and stylish camping fitout.
Photo below: The Mandalay 2 berth Campervan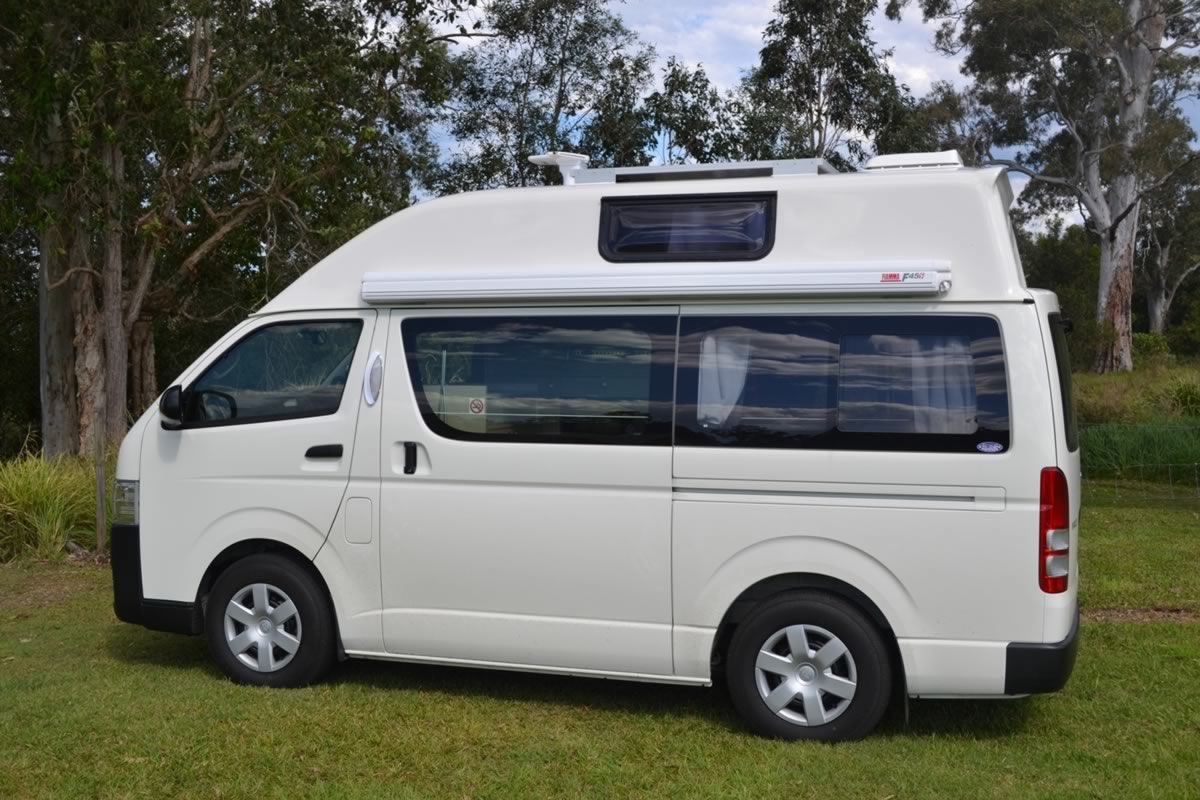 Larger Campervan Hire - 'The Stradbroke'
Built in Brisbane, especifically for Sunshine Campervan and RV Hire, this vehicle is ideal for anyone looking for a five day or longer, affordable campervanning holiday, or for accomodation at any one of the numerous music and arts festivals so popular in South East Queensland and Northern New South Wales.
Built with family camping in mind, we have taken care to ensure that the fitout is well designed, sturdy and built to last camper that can sleep two adults and up to two childen; ideally under 12 years of age. With extras like air-conditioning front and rear, internal toilet ensuite, external shower, solar power and reversing camera, this camper has most usual motorhome features in a cost effective package.
Check out the features, inclusions and specifications of The Stradbroke 2 + 2 Premium Campervan. You can see more photos in our Photo Gallery here.
Photo below: The Stradbroke Campervan beside the Maroochy River.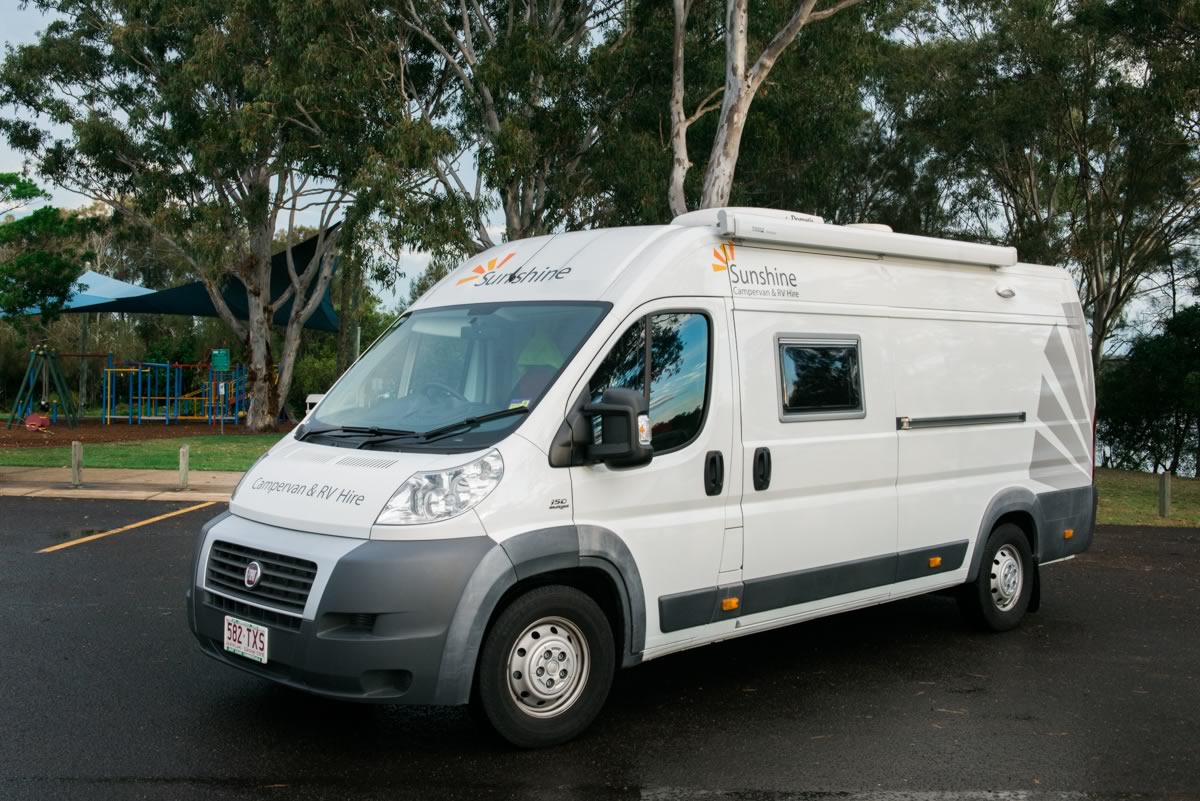 The Airlie 2/3 Berth Campervan
A new addition to the fleet during 2017 is our Renault Master based two berth campervan. With an economical diesel motor and easy to use manual gearbox, this classy camper is well appointed and gives the camper more room than the traditional Toyota Hi-top camper.
The extra room provided by the Renault Master base vehicle means a larger sleeping area with the choice of two good sized single beds or a large king sized double bed. Because this vehicle has three full sized seats in the front cab (with seatbelts), the Airlie can be used for two adults and a child or even three friendly adults that don't mind kipping down in the same king sized bed.
Photo below: The Airlie 2/3 berth Campervan
The Noosa 4 Motorhome
Looking for something a little larger and with an internal shower and toilet? Let us introduce you to the 'Noosa 4". Purchased as a 'little brother' to the larger Noosa 5, this Swift 664 is an exciting way to tour the East Coast of Australia or take a leisurely holiday in style and comfort. Still a very roomy vehicle whilst being shorter in length than the Noosa 5, this is another motel on wheels that will give you a vacation to remember. This vehicle has rapidly become the favourite of couples wanting some space and comfort and the ease of an AMT automatic gearbox for driving simplicity.
The Noosa 4 is ideal for two adults, but can accomodate up to 2 chidren as well. Note: there are no child seat anchor points in this vehicle, so it is not suitable for younger children or infants.
Photo below: The Noosa 4 Motorhome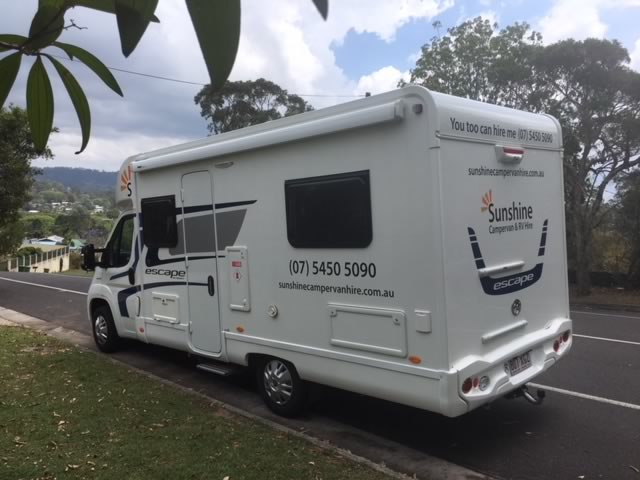 The Bondi 4 Motorhome
This well designed vehicle will be joining our fleet early December 2018. The 'Bondi 4' is specifically built as a rental motorhome and is consequently extremely practical for this use. Based on a 2017 Mercedes Sprinter with automatic transmission, this vehicle is a very similar size to the Noosa 4 above.
The unique layout of the Bondi 4, with it's pull down double bed above the rear 'club lounge' area, maximises available daytime living and nighttime sleeping space. Large panoramic windows in the club lounge area at the rear of the vehicle ensure you great viewing of the scenery wherever you are staying; regardless of the current weather.
Besides having an automatic gearbox for those who can't drive manuals, this vehicle has four seats with seatbelts; with the rear seats being fitted with child seat anchor points, so two smaller children can also enjoy a holiday in this vehicle. Of course we also have anchored child seats available for hire. So this four berth motorhome rental is suitable for Mum and Dad plus up to two children who would normally sleep in the beds you make up underneath the pull down double bed. Altogether a great way of maximising space without having to hire a large motorhome.
Fitted with internal shower and toilet, plus a kitchen with gas appliaces, the Bondi 4 is an an ideal vehicle for a single person, a couple's getaway or even a small family of up to four persons. Check it out now.
Photo: The Bondi 4 Motorhome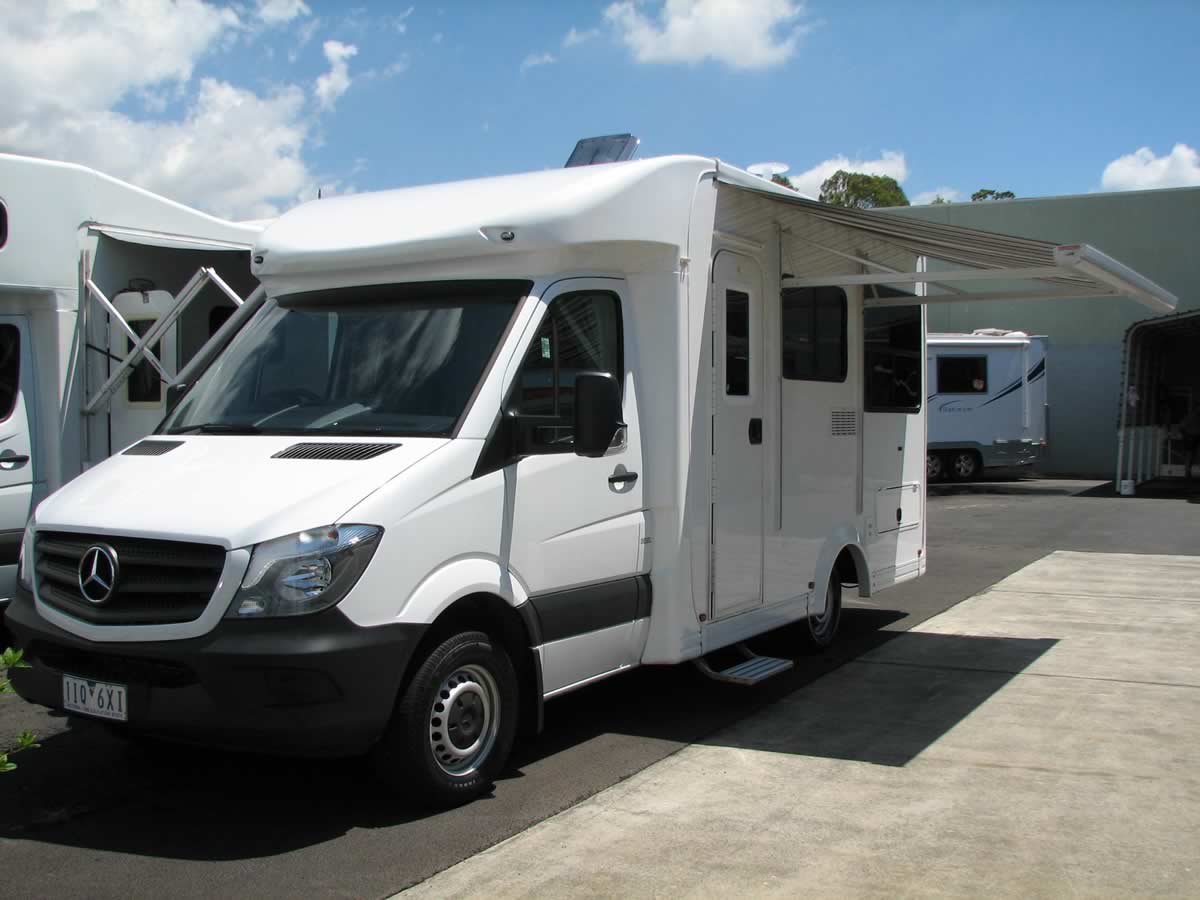 Camping spots around the Sunshine Coast
You don't have to drive far to find a multitude of fantastic camping spots around the Sunshine Coast. This picturesque region loaded with places to visit in your sunshine coast campervan rental or sunshine coast motorhome hire. From 'one night' 'free camping' parking spots to forrest and National Parks Reserves, to fully serviced camping grounds and Holiday Parks; this special part of South East Queensland has it all.
Secure your Camper Van Booking Now
CAMPERVAN HIRE - Choose 'Sunshine Coast' in the 'Pickup Location' of the Quote/Booking box and choose Campervan or Motorhome in the 'Vehicle Type' dropdown.