Car Hire Nambour
New Nambour Car Hire Location
iRenta Car Hire

- Nambour - Opening Soon
Its been many years now since Nambour boasted it's own car hire location in this rapidly growing town and surrounding area. In early May 2023, Aussie Bargain in conjunction with it's sister brand, iRenta Car Hire, will announce the official opening of their new premises at 181 Currie Street. This new location is dedicated to providing Nambour and Hinterland locals and tourists alike, access to convenient services such as car hire Nambour, Ute Hire Nambour and Commercial Van Hire Nambour.
Please Note; Until the official opening of iRenta Car hire in Nambour, all booking enquiries will continue to be handled through our Sunshine Coast Airport office in Marcoola. Phone (07) 5450 5850 for bookings or inquiries.
Why rent a car in Nambour?
For tourists, when it comes to car hire in Nambour, there are a number of advantages to having a new car hire location right here in town that can greatly enhance your travel experience. Whether you are visiting relatives or friends or just keen to explore surrounding towns or the lush and relaxing Hinterland, especially if you are arriving via Nambour Railway Station, having a car rental location in Nambour offers numerous benefits. For example, the following:
Convenience and Accessibility: With a car hire location in Nambour, you can, by prior arrangement, easily pick up your rental car from Nambour Railway Station, providing you with convenient access to your preferred mode of transportation immediately upon arrival. This can save you time and effort, eliminating the need to wait for public transportation or hail a taxi.

Flexibility and Freedom: Renting a car in Nambour gives you the flexibility and freedom to explore the area at your own pace. You can plan your own itinerary, choose your own routes, and stop wherever you want, allowing you to make the most of your trip and visit off-the-beaten-path destinations that may not be easily accessible by public transportation.

Cost-Effectiveness: Renting a Nambour car hire can be a cost-effective option, especially for families or groups. Instead of booking multiple taxis or relying on public transportation, sharing the cost of a rental car among several people can often be more affordable, providing you with a budget-friendly way to travel around Nambour and the Sunshine Coast.

Easy Access to Nearby Attractions: Nambour is located close to so many popular attractions on the Sunshine Coast, such as pristine beaches, lush national parks, and charming hinterland towns. Renting a car in Nambour allows you to easily access these attractions, maximizing your time and enabling you to explore the beauty of the Sunshine Coast at your own convenience.

Comfort and Convenience: Renting a car provides you with the comfort and convenience of having your own vehicle. You can choose a car that suits your needs and preferences, ensuring a comfortable travel experience. Plus, with your own vehicle, you can conveniently carry your belongings, groceries, and travel essentials without the hassle of lugging them around or relying on public transportation.

Ute Hire or Commercial Van Hire in Nambour
The advantages of having a new car hire location in Nambour that also offers commercial vans and utes extend beyond just tourists or visitors to the area. Here are some benefits for locals looking for Nambour Ute Hire or Nambour Commercial Van Hire.
Local Business Support: Having a new car hire location in Nambour that offers commercial vans and utes can be a boon for local businesses. It provides them with a convenient and cost-effective option for renting commercial vehicles to meet their transportation needs. Whether it's for moving goods, making deliveries, or carrying out other business tasks, renting commercial vans and utes locally can save businesses time and money compared to purchasing and maintaining their own fleet of vehicles.

Flexible Transportation Solutions: Locals who may require a van or ute for personal use, such as moving furniture, transporting large items, or doing DIY projects, can benefit from the availability of commercial vehicles at our ute hire and van hire location in Nambour. Renting a commercial van or ute provides them with a flexible transportation solution without the need to invest in owning and maintaining their own vehicle; which can be costly and inconvenient.

Convenience and Accessibility: Having a car hire location in Nambour that offers commercial vans and utes provides locals with convenient access to commercial vehicles for their transportation needs. Customers can easily pick up and drop off the vehicles at a location that's more convenient for them, saving time and effort compared to traveling to other locations outside of Nambour.

A Range of Options: The new iRenta Nambour car hire location will be offering a growing range of commercial vans and utes in Nambour. Customers will be able to select the right size and type of vehicle that best suits their specific requirements, whether it's a small van for light deliveries or a larger ute for more heavy-duty tasks. This ensures that locals have the right vehicle for their needs, without having to invest in purchasing a commercial vehicle that may not be fully utilized.

Cost-Effective Solution: Commercial van rental Nambour or Nambour Ute Hire can be a cost-effective solution for locals. It eliminates the upfront cost of purchasing a commercial vehicle, as well as ongoing expenses such as maintenance, insurance, and registration. This allows both locals and businesses to save money and allocate their resources more efficiently. Long Term hires and car and van subscription services can make your life so much easier.

Hinterland town Access: If you are living or working in any of thr Hinterland towns from Caboolture through to Gympie, it is now so easy to Pick Up your Nambour Ute Hire, Nambour Car Hire or Commercial Van Hire in Nambour. Just book your rental vehicle with us in advance and then use the Rail to get to Nambour to pick up your vehicle. Returning your rental vehicle is just as easy. Just return it to our Nambour Depot during business hours and we will drop you around to the rail station to catch your train back home. So easy and convenient.

In conclusion, having a new car hire location in Nambour that offers commercial vans and utes can provide significant benefits for locals, including local business support, flexible transportation solutions, convenience and accessibility, a wide range of options, and cost-effective solutions. Renting commercial vehicles locally can save time, money, and resources, making it a practical choice for locals in Nambour and the surrounding areas. Consider renting a commercial van or ute from our location in Nambour for your business or personal transportation needs. Book your commercial vehicle rental today and experience the convenience and flexibility it offers!
What makes Nambour great to visit?
Nambour is a flourishing town on the Sunshine Coast that's one of the fastest growing districts in the area. The town will welcome you with open arms and makes for a lovely place to stop off on your travels.
This is a relaxed place to pop in with many hidden gems. A walk down the streets will take you past bookstores, collectibles, retro and vintage stores and great coffee. There are also many lovely parks and waterfalls if you're a nature lover, and a museum if you want to learn more about the town and its surrounds. At the Nambour Majestic Cinema, you can catch the latest and greatest movies on the big screen. Indulge in a glass of wine as you watch the story unfold. There is so much to delight you in Nambour and the Sunshine Coast Hinterland.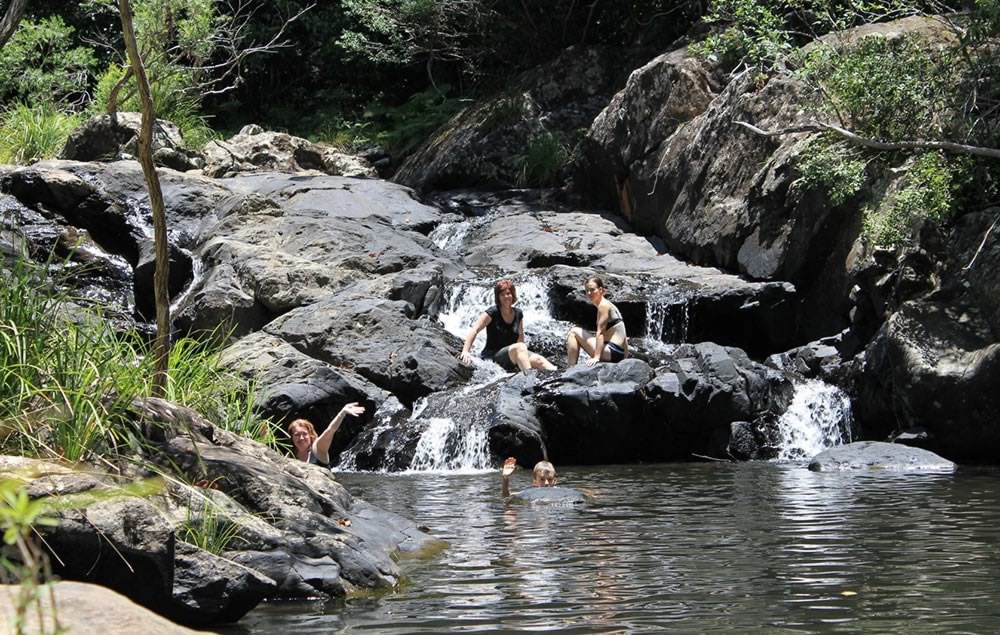 Fancy a cooling dip in one of our Sunshine Coast Hinterlad rivers?
Traveling to Nambour and the Hinterland
A Nambour car hire is a great way to get around Nambour and the surrounding district; indeed, around anywhere on the Sunshine Coast. At Aussie Bargain we offer you two options if you are visiting Nambour or the Hinterland. If you are flying into the Sunshine Coast, the easiest option is to book your Aussie Bargain hire car for pick-up at the Sunshine Coast Airport. Alternatively, if you are arriving directly into Nambour via Queensland Rail and getting off at the Nambour Rail Station, by prior arrangement we can deliver your rental car to you. We have been supplying rental cars to the Nambour Rail Station for many years now. Our customers find this service quick and easy.
Aussie Bargain is a family owned company with a tight knit team. Since opening in September 2005, we have grown and expanded so now we are one of the largest of the independent Sunshine Coast airport car rental companies. We work hard to give you the best deals and the best service so the whole process is easy and practical.
Whatever your needs, we have the vehicle for you. Our range includes SUVs, station wagons, vans and more compact cars. We also have a whole array of extras, so arranging your car hire in Nambour can be that much easier. If you've got your kids in tow, we've got baby seats and booster seats available, and if you're heading for the beach, ready to hit the waves, you can even choose to have a car with a surf board rack, just let us know when you book.
Nambour is just off the M1 Bruce Highway, near the Big Pineapple (see below), which you can't miss if you try. It's also very close to Montville and an easy drive to Maroochydore and Mooloolaba and a whole heap of beautiful beaches.
Living in Nambour or the Hinterland, and need a hire car. Just call our office at our Sunshine Coast car rental office on 5450 5090 and ask our friendly staff about picking up a hire vehicle to suit your needs.
And don't forget we now do campervan and motorhome rental, to enable you and yours to have a special holiday you won't forget.